A trend that has been gaining momentum in the last few years is buying a new mom a push present, not only from their husbands or partners but sometimes other family members and friends as well.
Giving push presents is a way to show gratitude to the new mom for providing the ultimate gift to the family: a new baby. Some will say that getting a baby is enough of a present. Still, after going through not only nine months of growing a person inside her and being able to go through labor and ultimately deliver a baby, new motherhood deserves recognition.
See push presents for wife as a way to say "Thank you" or "You do matter to me" during a time when most people will concentrate on the baby and sometimes forget about the mommy.
Do not think that only women who actually pushed a baby out of their bodies are the ones who should receive a push present—women who went through c-sections also lived a whole different journey but not less important, and their road ahead is also challenging. So, show love to them as well!
And let us not forget about adopting parents. They might not have gone through pregnancy and labor themselves, but they are new parents starting a life with a baby, and, taking the physical aspects aside, they will go through the same motions and hard work of raising a child and bonding with them. So they, too, deserve to be recognized and made feel important.
Overall, a push present is something that ought to be thoughtful and memorializes the birth of a child, so there are ideas for every circumstance and budget. The perfect push gift will be the one that makes the new parent feel valued and seen.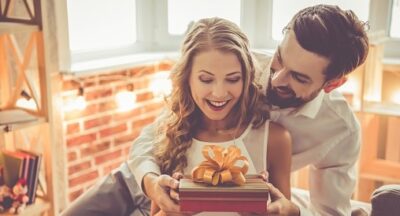 What is a push present?
A push present is given to a new parent, usually the mom, to celebrate the great effort of bringing a baby into their lives.
When choosing the perfect push present, you need to think about what your loved one values most—it might be different from what you initially thought of or what others have told you. Every individual is different and feels loved in different and many ways. Maybe your partner loves jewelry, maybe they prefers to be pampered, or perhaps a present that hold a more sentimental value. Whatever they like, the present should reflect those preferences.
Another thing to think about is the budget. Remember that life with kids is not exactly cheap, and they require a lot of things, especially during the first few months. So it is not recommended to get a push present that sends you way over budget and later puts strain on your finances.
When do you give a push present?
It can be given in advance. Some choose to do it during actual labor (which is a nice gesture but let us face it, at that moment, moms just want to get over the delivery and have their babies with them) or afterward. Remember that it should always be a special moment whenever you choose to give the push present. So, just as important as the push present itself is how you present it to your loved one.
Push gift ideas
There are present ideas for every style, every personality, and within everybody's budget. So let us take a look at the different options and ideas available.
Jewelry for a push present
This is one of the most common options when searching for push present ideas. There are a lot of meaningful jewelry pieces that have been specially designed for this purpose. Many options can be customized, stacked, and updated when you add more babies to the family, so this is a beautiful idea and a practical gift. Most people first think of expensive jewelry as the perfect push present, but the truth is that nowadays, there are a lot of options for a variety of budgets.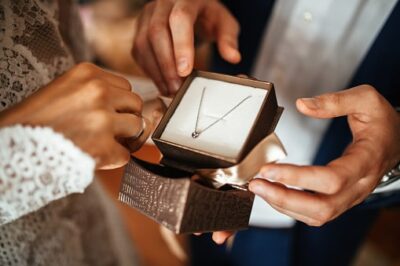 1. Baby's birthstone
To commemorate the month the baby was born, there is a lot of push-present jewelry that features the baby's birthstone.
From rings with single or multiple stones to stud earrings, necklaces, and pendants. This is a nice way to memorialize that important date in life. If you want to have multiple children, there are stackable options for rings, and you can add either another pendant to the necklace or a different length necklace to wear together after the other babies are born.
Birthstones are not particularly expensive—it will depend on the base they are mounted on. So you can find alternatives that fit every budget.
2. Personalized jewelry
Engraving the baby's name and birth date on a piece of jewelry takes it to another level of meaning. You can have it in various styles, colors, and materials. Whether it is a necklace, bracelet, or ring, this is another option you can customize and add to if you have more children. You can get personalized jewelry in sterling silver, gold, or gold-plated, among others, which will last a long time with proper care.
3. Initial pendant
Another thoughtful gift is getting the new mom a pendant with the initial of the baby's first name. It will not only be beautiful, but she will adore it. There are many options, from simple ones made of plated metal to diamond-studded and 18k gold, so there is something for everybody.
4. Charm bracelet
A very popular push-present idea is the charm bracelet, where you can add little charms commemorating the baby's life, and there is a lot to choose from to make it extra special. Also, the mom can add her charms whenever she likes and change them depending on the occasion. So, if you are looking for a stylish push present, consider this one.
Pampering gifts
Yes, jewelry is always welcomed and cherished. But for some, there is nothing better than having "me time" where you can relax and feel like a human being again. Unfortunately, being a mom to a new baby requires so much focus on the little one that women, or the primary caregiver, are often left feeling left out and invisible.
It is all part of the process, but imagine how meaningful it will be if you could change that, even if just for a little while. She will definitely appreciate it. Here is a selection of pampering push gifts for the super mom.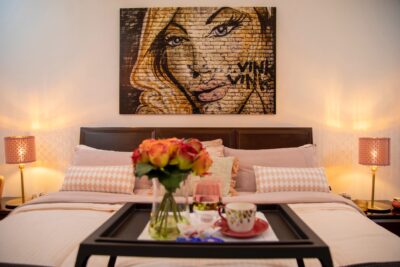 1. Essential oil diffuser
It has been proven through the years that aromatherapy is a very effective way to relax, especially when feeling stressed or overwhelmed.
This unique push-present idea is helpful for both the mom and baby, and there are many presentations to choose from. You can find diffusers to be placed around the house or as an accessory. For example, the Jack & Rose Essential Oil diffuser bracelet is a beautiful accessory. It comes with various essential oil pads that can be changed depending on the mood.
2. Comfy pajamas
During the first weeks, moms will spend a lot of time (maybe even the whole day) wearing pajamas because they feel more comfortable in them than in normal clothing. Plus, you can expect her to be running around doing so much that time will fly away. Getting a few comfy pajamas that make her feel pretty is always a great push present.
Depending on the situation, choose between nightgowns, pajama sets, matching mom-and-baby sets (these are super cute), nursing pajamas, or a robe. Or you can also choose all of them.
3. Sheets set
After a long day, everybody loves to be able to rest as comfortably as possible, and getting into a bed with comfy soft sheets sounds like heaven on Earth. And if you are the husband or partner, you will also benefit from this gift, so it is a win-win situation. One thousand thread count cotton sheets or bamboo viscose sheets, although not exactly cheap, are perfect push gifts that she can enjoy, even if just for a few hours or minutes at a time.
4. Throw blanket
Sometimes rest happens on a couch or in a nursing chair with a baby in the arms. Having a cozy throw blanket at hand to keep both of them warm will be much appreciated. Just ensure that it is not made of wool threads, as this material tends to irritate a baby's skin or cause allergies. Cotton is the best and safest option to go with.
5. Weighted sleeping mask
Relaxing with a newborn is definitely hard, so you are a hero if you can help the mom relax while the baby is sleeping.
A weighted mask that applies gentle, even pressure leaves her feeling comforted, and it is a very soothing experience. The Nodpod weighted blanket for eyes contours around the face and blocks the light to help relax and fall asleep faster. The material used has cooling and warm sides, so you can use it for a more soothing feeling depending on the temperature. It can also be chilled in the freezer, and it will remain soft and flexible.
6. Spa treatments
This one requires an extra set of hands to take care of the baby while the new mom enjoys her push present. If this is something you can do, she will really appreciate it and see it as a priceless present.
Get her a relaxing massage, manicure, pedicure, or a day at the salon to make her feel special. If you are getting her a gift card for these matters, make sure that it does not expire so she has time to plan for her day out. Before she can enjoy her day at the salon and truly relax, she will definitely ensure the baby's care first.
7. Foot massager
After a long day of running around and caring for an infant, a good foot massage may be all she needs. She could sit down and enjoy this while watching TV or even while nursing, making it one of the best push gifts ever. Also, spouses or partners can enjoy them too. There are different options to choose from, but the RENPHO Foot Massager Machine with Heat has great reviews.
8. Cool diaper backpack
Traditional diaper bags usually feature a baby motif. Since parents will be carrying diaper bags for a long time, a special gift could be getting a bag that resembles a purse or a stylish backpack.
Diaper backpacks are very convenient and easy to carry around with every essential you need inside. Brand Lily Jade has designed a stunning diaper backpack that she will surely love. It is so beautiful that once the baby stops needing a diaper bag, it can still be used for travel, studying, as a gym bag, or however you like. Although it is a little pricy, this is one of the best gifts on the list.
9. Espresso machine
During those long days after late nights, a nice, rich, and smooth cup of coffee could be just what a mom needs. Another great push present would be getting an espresso machine so she can have barista-level coffee every day without the need to leave the house. This is a gift that can be enjoyed by everybody in the family, even by visitors who will come to visit the little one.
Practical and convenient push presents
Want a present that actually does something or helps out significantly? Then think about how you could take away responsibilities or simplify her life during those first few weeks.
1. House cleaning service
Is there something better than having someone deep clean your house while you care for your baby? The answer is: no.
Adding chores to an already overwhelmed mom sometimes is too much, so if you can either help her accomplish them or just get her someone to do it for her, it will definitely make her happy, making this a perfect gift that she needs.
2. Food delivery service
Another chore that would be awesome for a new mom not to do is cooking. There are a lot of companies that offer meal plans delivered directly to your house, and most of them have customizable options to fit dietary restrictions. This is not a simple take-away (which is also nice once in a while). It provides good nutritional meals for the family. So if you are looking for a fantastic gift, this might be it.
3. Home-delivered groceries
Any mother can tell you that getting out of the house with a baby takes a lot of patience and planning. And doing grocery shopping with a newborn can be even more challenging. Thankfully there are online services where you can shop for your groceries and get them delivered to your front door. Is not that awesome? So a thoughtful push present could be a gift card to be used in stores like Amazon Fresh or Instacart, or maybe a Thrive Market membership can be on point.
4. Audible membership
If the new mom has always loved to read, but it may be hard to do it now that she has to carry a baby, then audiobooks are the best push present. With a great selection of titles for every genre imaginable, this subscription service allows you to keep up to date with "reading" or listening to podcasts. Audible is also a very affordable choice.
Keepsake push present
If the new parent is more of a sentimental person who gets emotional with little keepsakes, choose something that reflects this sentiment.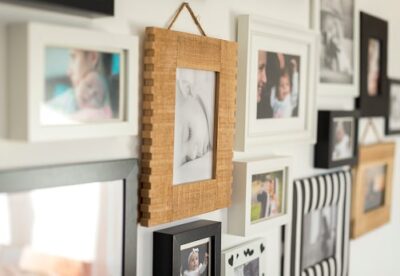 1. Baby and me outfits
A common push present is getting a matching set of clothes worn by the baby and one or both parents. This is a super fun way to celebrate the life of your little one. You can take pictures wearing them and save them or have them framed to show everyone. This is very creative, and the outfits can be later kept as memorabilia from such an exciting event. The right outfit can also be used as a going home outfit.
2. Framed photo art
New parents everywhere take many pictures of every little detail since the baby's birth. A photo frame is a lovely gift, but think about how cool a whole wall would look with a collection of moments. Mixtiles offers high-quality printing of your pictures in movable frames, so you do not damage your walls if you want to rearrange them. They offer gift cards that could be a perfect push present.
3. Keepsake memory box
MadTreeWoodcrafts has a beautiful memory box made from walnut and cherry wood and can be personalized with the baby's name and birthdate. Inside, it can be filled with things to commemorate the baby's arrival, like footprints, the family hospital bracelets, the first outfit the baby wore, or a blanket used to leave the hospital. You can add sentimental things over time as well. This sentimental gift is sure to bring a lot of happy moments to remember.
4. Instant camera
Remember the classic Polaroid camera where you could print the picture instantly? Well, the Fujifilm Instax Mini camera recreates that format. It instantly prints the photos so you can keep them or share them with relatives and friends. It comes in 7 different colors, and you can get a package deal that includes: 40 instant films, a fitted case with a removable strap to protect the camera, a 64-page photo album, a lucite frame, and 5-colored plastic frames. There are also other instant cameras available you can find in online stores.
5. Hand and foot art
There is nothing cuter than tiny little hands and feet, and they last so little time that capturing that moment will always bring beautiful memories. There are a lot of sets where you can mold the baby's hand or foot on clay and have them displayed with your child's birth date and name. For example, this Baby Ornament Keepsake Kit has everything you need to make and display the pieces. You can also get a Baby Handprint & Footprint Keepsake Photo Frame Kit, which includes a frame to display the molding and pictures of the newborn baby.
Final thoughts
So now that you know what a push present means and how many options there are, remember that everyone has different styles and preferences and that this is not an obligation to purchase a push-present but it will be a well-received gesture.