A well-stocked diaper bag can make a difference in how well you can enjoy time out of the house with your baby. The mad scramble home because you forgot diaper bag essentials is a panicked one that can make any parent reluctant to venture back out. Worry no more, this article will help you pack your diaper bags like a pro.
This article will provide a diaper bag checklist, explanations, and more. The next time you plan, you will know just what to pack in your diaper bag.
Diaper Bags
First, you need, well, a diaper bag. Gone are the days when the parent's only option was a huge bulky bag with straps roughly the size and weight of a suitcase. Now there are many diaper bag options in many different patterns, colors, and styles.
Classic Diaper Bag
You know what it looks like. Essentially a tote bag, often with handles and a longer adjustable shoulder strap, these diaper bags offer a lot of space. Many of them come with a matching changing pad and many pockets. These diaper bags are great because a large bag with many compartments and pockets is easier to organize than an open concept bag that holds less. Often, these bags have insulated pockets that will help keep a bottle warmer, a pocket that holds diaper wipes, and do not forget about that changing pad.
Backpack Diaper Bag
A diaper bag backpack is excellent for the active parent who may not like the shoulder strap or handles that a traditional diaper bag has. Like most diaper bags, these often come with a changing pad.
The perks of a backpack diaper bag are that you can wear it comfortably, and both of your arms are free. You get equal weight distribution, too, so the bag's weight is not all on one shoulder only, like a traditional bag. The downside to this kind of diaper bag is that they are usually smaller than a traditional diaper bag. Also, it is harder to organize because of its deep rather than wide design. A common complaint bag owners have is that you have to dig to get to things, which takes too much time and can be messy.
Diaper Bag Checklist
Having a diaper bag checklist is an excellent way for a new parent or any parent to get you out the door, confident that you have everything you might need. While not all of these items apply to all parents and families, many of them do. Just be sure to adjust the list according to your specific needs, and you will be ready to roll out the door without incident.
This list may seem overwhelming at first, but rest assured that as time goes on, whether this is your first baby or your third baby, you will quickly learn what items you need to bring and which things you do not, based on the specific needs of your child.
1. Burp Cloth
Infants throw up a lot, and having an extra burp cloth or two in your diaper bag can be an absolute lifesaver because this item is multi-functional. You can use a burp cloth to clean messes, to use as a clothing guard on your shoulder when you burp your baby, and when all else fails, as a barrier between a changing table in a public restroom and your baby if your changing pad becomes soiled or you forget it at home.
2. Diaper Rash Cream
A baby with a diaper rash is usually a pretty unhappy baby. A wet diaper or soiled diaper can quickly irritate a baby's delicate skin when you are in the car for long stretches or out in the heat. Odds are, your little one will need diaper rash cream when you are out of the house more often than they will need it at home, simply due to humidity, limited access to changing stations, and chafing.
3. Nursing Cover and Nursing Pads
A good nursing cover is something you should pack in your diaper bag even if you do not breastfeed. Bottle-feeding parents can attest to the multiple functions of a nursing cover. Just about any nursing cover on the market right now can double as a baby blanket if it gets chilly or a car seat cover. If you breastfeed, be sure to pack lots of extra nursing pads. You may not have as many opportunities to nurse or pump, and you will be thankful you have pads to catch the leaking milk rather than ruining your shirt.
4. Waterproof Bag
This is not something that many parents think of until they need one and do not have one. Many diaper bags are made of canvas or other thick material that dries slowly, and the last thing you want is for that sleeper peed through to soak into the canvas on the bag and smell forever of pee. Keeping a waterproof bag, even if it is just a gallon-sized zipper bag, in the diaper bag can hold anything from a dirty diaper to soiled clothes to dirty burp cloths full of spit-up. All it takes is one wet bag, and you will never forget this simple and handy item again.
5. Baby Food
Once your infant is old enough for solids like baby food, make sure to keep some spare food in your bag. Appointments that run longer than the planned time, outings to the zoo or park, or prolonged visits to Grandma's house can mean a starving little one, and you need to have food on hand everywhere you go. If your child is eating solids, packing more snacks than you think you will need is also a great idea. This keeps an older baby happy between meals.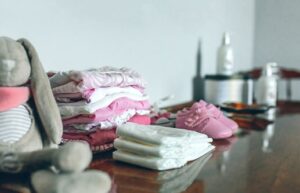 6. Soft Blanket
Having a soft blanket or lightweight blanket in your diaper bag is something that you absolutely need. This is one of those diaper bag essentials that you must pack in your diaper bag. While you can control the temperature in your home or your car, you cannot control it when you are outside or in other buildings. Keeping a baby's body temperature regulated is important for a baby's happiness and health. Depending on the temperature and climate you live in, you can use a swaddle blanket, receiving blanket, fleece blanket, baby quilt, or muslin blanket.
7. One Diaper for Every Hour You Are Out of the House
While you may not have to change your baby every hour at home, it is good to keep one diaper for every hour you are not home. Why? If your child is going to have a blowout, a day where they pee nonstop, or a day of diarrhea, you can bet it will be the day you are not home. That is just how it works. Ask any parent. Also, be sure to pack plenty of diaper wipes and rash cream.
8. Extra Shirt for Breast Milk Leaks
Even if you are not nursing and have chosen to bottle feed your baby, while your baby is still in the newborn stage, there is a good chance that you are still lactating. An extra shirt for yourself is a great idea for those leaks. No one wants to go grocery shopping or visit a friend with two silver dollar-sized wet circles on their shirt. This is also a great idea for when you get spit up all over you.
Other essentials for you that you may consider packing include:
Lip balm
Hand sanitizer or hand sanitizer spray
Extra Hair ties
Snacks for you (especially if you are breastfeeding)
9. Water Bottle and Formula
If your child is not drinking breast milk and is formula feeding, keep a water bottle in your diaper bag and at least a travel-size pack of formula. This will save you when you run out of prepared bottles and need another one on the go.
10. Extra Clothes for Baby
This is one of those diaper bag essentials you literally cannot go without. When asking any parent for parenting tips on what to pack in a diaper bag, you will hear this suggestion every time. Keep at least one extra outfit for the baby in your diaper bag for when the baby spits up all over their clothes or when Grandma wants to turn a short visit into an overnight trip. An extra change of clothes is one of those baby's must-haves.
The only downside to having to carry a change of clothes for the baby is that if you are trying to save space in your diaper bag, this can add to the issue, especially if it gets cold where you live, and the clothing is bulky. Also, remember to change out the clothes when the seasons change and as your baby grows.
11. Other Baby Products
As your baby grows, the must-haves will slightly change. When a baby is a newborn, one bag with just the absolute essentials is enough. As your baby matures and develops, you will find that you may need to pack other things in your diaper bag, like boredom busters.
Toys and board books may replace changing pads as your infant turns into a toddler. A new baby requires less as far as entertainment goes, while an older baby requires less mashed food, formula, or breast milk supplies as they start to eat table food. Understanding your child's developmental stages and needs will play a key factor in this process.
Choosing the Right Diaper Bag for You
Are you tired of finding the pacifier in the black hole that is your diaper bag? Are you worried about spending extra money on a diaper bag because it has many pockets? Are you convinced that you will not need much space for your supplies, so you want to try a well-packed purse instead?
Deciding which bag is right for you is a personal choice. Many parents start with one type of diaper bag, and then as the child gets bigger, they switch. Or sometimes they will discover that the bag they originally bought because it was adorable is not at all practical, and they make the change right away.
The following are suggestions for types of diaper bags based on your child's age. Please note that it does not account for more than one child.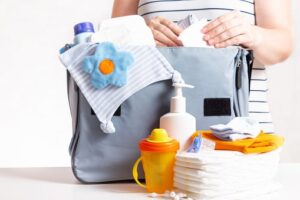 1. Newborns
Newborn babies require a lot of baggage. You need a ton of diapers, wipes, clothes, and creams. If you are the type of mom who likes to be prepared, there is a good chance you will be packing everything but the kitchen sink. While a backpack bag may give you hands-free access to your supplies, you may need more space than what that bag can offer. Often, a traditional tote-style bag is a preferred bag for newborns.
2. Six Months: Toddler Stage
You may find that you can replace some wipes and diapers with things like food, toys, and books to keep your little person entertained on trips. Often, this does not mean less space, but it does mean that you may not need to have everything super organized. A toddler mom can reach into a bag, pull out a toy, and an unhappy toddler can entertain themselves with it. Mom never even needed to look in the bag.
A backpack bag may be the perfect bag for these moms, as it leaves them hands-free to chase a little person around the park, hold hands in store, or carry a baby who weighs more than a newborn.
3. Older Toddlers and Up
Once your child is potty trained, the need for diapers and wipes is no longer an issue. You can go out for two hours or more to visit friends or the playground and not have to bring everything in your house along with you. For older kids and those shorter trips, you can bring a small bag or even get away with carrying a purse with a few essential items in it for your kiddo and mom. If you want to pack for a short outing, a large purse is often the way to go.