Packing your hospital bag for delivery is an exciting but stressful task. You are about to give birth, yet, you still need to figure out what to pack for the hospital. Not only do you need to pack for yourself, but most new moms opt to pack a diaper bag for their new baby boy or girl so that they have everything they may need for their precious newborn when they leave the hospital and head home.
One thing that women find incredibly frustrating when packing the hospital bag is the going home outfit for mom. Should you pack maternity clothes or something from your pre-pregnancy wardrobe? Fret not, expectant moms. This article will walk you through each different option so that you can go, experience the miracle of giving birth, and walk out of the hospital feeling comfy and good about yourself.
Postpartum Clothing
If this is your first baby, you probably do not know what to expect when it comes to the changes that your body will go through from the time you get to the hospital, "very pregnant", and leave the hospital, "no longer pregnant."
Your body will go through the wringer during delivery, and when you have that new baby in your arms, your tummy will not be flat right away. In fact, it takes several weeks for your uterus to go back to its previous size, and you will experience bleeding, swelling, bloating, and, if you are a c-section mom, an incision site. Here is a good guide to help you through those first few weeks.
The following are several options you can choose for your going-home outfit.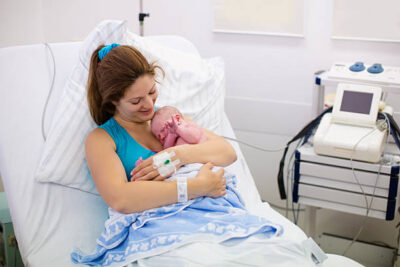 1. Maternity Clothes
Many women opt for comfy maternity clothes to go home in. Pajama pants, leggings, or pants that give you room and do not have a zipper or button to fuss with are great options. Many women also like to pack a pretty maternity dress that will help them feel as though they are more put together while being comfortable at the same time. You can get any dress you like, in any style, and feel and look great.
2. Nursing Bra
If you plan to breastfeed, a good nursing bra is a must. The first few weeks of breastfeeding may not yield a lot of milk production because your body is still producing colostrum, the thick yellow fat-packed milk that is like a superfood for the baby. However, your breasts will be swollen, tender, and leaking. A good nursing bra that gives you support and feels good is necessary for that hospital bag.
3. Socks and a Blanket
Many women have cold feet during pregnancy, and it has nothing to do with being nervous. Due to poor circulation and water retention, motherhood comes with cold feet, and the cool temperatures inside a hospital make it worse. You do not want to be shivering the whole time you are in the hospital, and those floors tend to be slick. Hence, a good pair of slipper socks offer warmth and a good grip for when that nurse tells you that you need to get up and walk around.
Another great item to bring along is a blanket. This item can serve a multitude of purposes. It adds warmth for mom, gives dad something to cover up with if he is staying in the hospital with you, can be used as a prop for baby pictures, and can even be used as extra padding between yourself and those hard and unforgiving hospital bed mattresses. A soft throw blanket in your hospital bag is a choice you will not regret, even in the summer.
4. A Hospital Outfit
Most women will get an open-backed hospital gown while admitted to the hospital. These are not comfy, they certainly are not cute, and they can leave you feeling quite exposed. As important as choosing a going-home outfit, it is equally important to have a hospital outfit.
If you have a natural birth without any problems or complications, they will likely allow you to shower and get up and move around almost immediately after giving birth. This will give you a chance to change into your own clothes that will help you feel comfortable while staying in the not-so-cozy hospital.
Good options for this outfit are a good pair of maternity underwear (probably a few pairs, as you will likely do a fair amount of bleeding), a bra for nursing, a nursing tank or pajama top, or even a nightgown. Nursing tanks are great because you can layer them under an incredibly soft robe or sweater if you get cold, and then take off the top layer and have the tank to nurse in.
During your hospital stay, you want to be as comfortable as possible. So a robe, slippers, and warm socks are a must for the new mom who may have swollen feet that get easily cold in the hospital. You will have all the time to be fashionable when you get home from the hospital. Comfort is key while you recover from your delivery or c-section.
Going home outfit for baby
Now the fun part. The going home outfit for baby, your little bundle of joy. Many moms enjoy choosing from all of the cute outfits they have accumulated during pregnancy for all of those photos that can be taken before you leave the hospital and when you first arrive home. You do not have to choose just one, and packing a few of your favorite baby outfits gives you easy access to the clothes you like most so that you do not have any regrets when it is time to dress your little one for the first time.
Pack More than One Size
Your doctor can estimate the size of your baby before you deliver, but you will not know until the baby gets here how big or small that little one will be. It is good to pack a few sizes for the baby's going-home outfit. Some babies never wear newborn-size clothing, while others need preemie-sized clothing. Having a few options will save you the hassle of finding something to dress your baby in. It is highly recommended to have at least two sizes as options.
Going Home Outfit for Cold Weather
Keep in mind that a newborn baby cannot regulate its temperature like an adult can. So if it is cold outside, make sure to bring a warm outfit or even a cute sleeper for your little one to wear home. Babies quickly lose heat through their heads, so a hat for a baby is a must-have even if it is a little cool rather than cold. Warm pajamas and a coordinating colored hat are a great option.
Mom and baby matching outfits
Motherhood is a beautiful milestone in a woman's life. Many women opt to have those first moments with their perfect addition to the family documented by a photographer who comes to the hospital before they are discharged. There are many great ideas for outfits for these occasions, and some new moms think that the perfect choice is wearing matching outfits or coordinating prints and colors with their newborns.
Matching Prints and Colors
Your postpartum body may not be everything you had hoped for, but keep in mind that you just produced and delivered an entire human being. Your body is fantastic! If you are having trouble coming up with coordinating outfits to match your newborn because you do not think you are going to look good, it can be a simple task by matching colors and prints.
A flowing and flattering maternity top for the new mom in a color that matches the baby's onesie or outfit will look beautiful in pictures. You can even opt for a decent length non-maternity top or dress to hide an incision site from a c-section. You can choose from several different colors, and when you start shopping, keep in mind the colors that you feel most confident in, and do not worry about the gender of the baby. If your color is purple, rock that purple. A boy looks just as good in purple as a girl does.
A Matching Swaddle and Super Soft Robe
Your hospital stay is not about looking glam, but that does not mean you cannot look good and be in relative comfort while matching your little one. Many companies and stores offer sets of swaddle blankets and butter-soft robes in matching prints that mom can wear and then swaddle baby in for pictures. These are a great choice because you can wear the robe any time during your stay in the hospital.
You can also wear anything you want under it. No one will know what you are wearing, whether it is nothing at all, a nursing tank, a sweatshirt, or pajamas, with your soft robe on. You can post a picture of it on social media, and everyone will think you are a well-planned and well-put-together duo.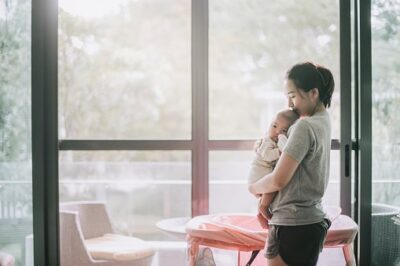 Dressing for the Ride Home
When we watch movies that include childbirth, we see women with big pregnant bellies and women with flat tummies leave the hospital in trendy clothes as a going-home outfit, looking like they are ready for a night out on the town.
It is easy to hope for and even expect normalcy and feeling like "you" again after giving birth. You have just spent nearly a year growing another human, and it would be wonderful if we could all put on our cutest low-rise jeans and form-fitting tops as a going-home outfit and look fantastic in them.
However, the reality is that there is no quick mom edit on the way you get back to your pre-pregnancy body, weight, and look. There is loose skin, sometimes an incision, mild to moderate pain and soreness, and a pad is so heavy-duty that you could use it as a life raft if you needed to.
Science and trends in women who have babies say that you should be back to your pre-pregnancy weight anywhere from six to twelve months after birth. Sometimes it is longer than that, and that is okay. So when you plan what to wear for the journey home, plan on comfort rather than looks.
The Ride Home from the Hospital
Going home is something that most women look forward to after spending 24 hours or more like a guest in a clinical setting. You are tired, worn out, sore, and want your bed and the privacy of your own home so that you can start to become the family you have just added to or created.
The "ride-home outfits" are something that few women think about but can make a big difference in your comfort and recovery time immediately after getting back home with a baby. Going home from the hospital should include wardrobe choices like stretchy or soft pants that allow you to buckle your seat belt without putting too much pressure from a button or denim jeans on your uterus.
There are lots of cute yoga pants, leggings, gym shorts, and athletic wear that can accommodate this comfort level. Shopping for going home outfits can be a fun experience because you can pair these comfy bottoms with a cute top that you can wear in the car that gives you all of the support you need, all of the comfort you need, and still looks somewhat put together.
Don't Forget Footwear
Swollen feet do not go back to normal right after childbirth. In fact, you may have more swelling due to being in a hospital bed, water retention, and poor circulation right after delivery. Motherhood is beautiful, but wearing cute shoes can be next to impossible when heading home.
The car does not care what your shoes look like. So slippers, flip flops, loose sandals, and even support socks can be your best bet when you shop for what footwear you plan to use for the ride home. Some soft and fuzzy socks, a pair of warm slippers, or even flip flops you can take off once you are in the car are often the best options.