Big decisions start taking place immediately after you see that positive pregnancy test. It is big news to share, and even the decision of when and how to tell your partner that you are pregnant is a big one.
Not all pregnancies occur under perfect circumstances. Sometimes they happen without being planned, which carries a certain amount of stress and tension. Sometimes they happen after the loss of a pregnancy, which adds pressure and worry. Sometimes they happen to couples who have been trying for a long time, and the success of conception is overwhelming and almost too much to handle.
This article will help to guide you through ways to share your pregnancy announcement with your boyfriend, husband, or partner, regardless of the situation.
How to Tell Your Boyfriend Your Pregnant
1. Timing is Important
For many women who have just learned the big news through a home pregnancy test, knowing when the right time is to share the pregnancy announcement with their partner depends on many factors. Some women would rather seek professional medical advice first to ensure that the home pregnancy test is accurate.
Seeking Professional Medical Advice
Seeing a doctor for professional medical advice will give you more information than a pregnancy test will. You have to call your OB/GYN and tell them you have a positive test. They will ask questions about the date of your last menstrual period, advise that you stop taking birth control (if you were on any), and abstain from harmful substances, like cigarettes and alcohol, until you are seen.
Once a doctor has confirmed the pregnancy, they will give you a due date and set you up with your next appointment. You will get lots of information about what you will need to do and change your lifestyle to accommodate your pregnancy, and you will be armed with a lot of helpful support and information.
Some expectant mothers choose to take this first step alone, especially in cases of unplanned pregnancy. This gives the mother-to-be more information and confirmation of the pregnancy before announcing the news to the father. Other women choose to involve their partner through every step of the process, including visiting the doctor for that first appointment. Whatever you decide to do is up to you and completely fine.
2. Don't Wait Too Long to Tell Your Partner
It is natural to feel anxious about an unplanned pregnancy. Often, you do not even know you are pregnant until you start to exhibit symptoms like morning sickness, and by then, you are usually at least a couple of months pregnant. Whether your pregnancy was planned or not, there are a lot of decisions and changes that will be occurring in the next several months, and the longer you wait to tell your partner, the more pressed for time you may be. It is best to have the discussion as soon as possible, as long as you are comfortable doing so.
3. Assess Your Relationship
Pregnancy, especially when unplanned, can drastically change a relationship's dynamics. Maybe one or both of you never wanted or discussed having kids. Maybe one or both of you did not think your relationship was far enough along to create a family. It is perfectly natural to be a little apprehensive, or even worried, that your partner will be upset, sad, or even angry at the news that there is a baby on the way. But the moment you see that positive test, it is no longer an idea or a possibility of being pregnant. It is a reality.
It can be scary to tell your partner that you are expecting a baby, even in a rock-solid relationship. But the conversation needs to happen. You are not the only person affected by this news, and you have to take a moment to process the information and then prepare to talk about it with your partner. The two of you created life, and life will now have to change a little, but it can be a time of healthy growth and love for you as a couple, too.
How Do I Tell Him I'm Pregnant?
If you are ready to make the pregnancy announcement to your partner, there are many ways to do it. You can choose to sit down over morning coffee (decaf for you, mom) and break the news while in a relaxed state. Or you can announce it over an intimate dinner so that the focus is just on the two of you. If you are looking for more creative ideas to break the news, there are many creative ways to do it. The following are some great ways to tell him you are pregnant.
1. Make a Big Brother or Big Sister Tee Shirt
If you have other children, a great way to surprise your boyfriend or husband is to design a t-shirt for the older sibling that says "Big Brother" or "Big Sister." Dress the child in this t-shirt and send them to their daddy for something. This is one of the most fun ways to let him know there is a baby on the way because it involves your other children, and you can be there to take pictures of his reaction.
2. Invitation to the Child's Birthday Party
Making or purchasing a birthday party invitation for your baby is one way that is sure to surprise your partner. Just fill out the name as "Baby (last name)," the day of the party, and the estimated due date. Give this to him in the mail or as a gift. Once he opens it, he is in for a surprise.
3. Leave a Note on the Bathroom Mirror
This announcement for a baby can be as simple or as complicated as you want it to be. Leave a note while he is in the shower or still in bed on the bathroom mirror. When he is in the bathroom, he will see it. You can simply tell him or lead him on a little scavenger hunt with clues starting from the mirror and going all over the house. You can end it either with a positive pregnancy test, baby products, or even something clever and funny like a bun in the oven in the kitchen.
4. Leave Baby Products Where He Will See Them
Buying a pair of baby shoes or a pacifier (something small) and leaving them in a place he regularly looks around the house is a great way to surprise your partner. For example, if he usually leaves his keys on the kitchen counter, you could leave a pair of baby shoes or a baby rattle next to his keys. The next time he goes for his keys, he will see them and get quite surprised.
5. Put a Pregnancy Tracker App on His Phone
If you can get a hold of his phone, download a pregnancy tracker app to send him notifications. Ensure that the first notification will come through while you are together somewhere you can discuss the big news when he sees it. Many apps do this in informative and entertaining ways, like comparing the baby's size to foods, animals, or other familiar things to a dad or anyone.
Imagine sitting on the couch together while he checks his phone to see a notification that your baby is the size of a poppy seed now that you are five weeks pregnant. This will not only open up a talk about the pregnancy, but it will also make sure that the dad is involved in the pregnancy and follows along in its progress. There are even apps that are geared towards expectant fathers.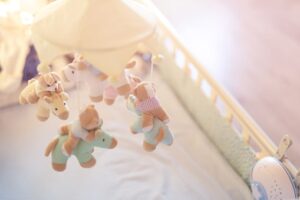 Cute Ways to Tell Your Husband You Are Pregnant
If you are ready to tell your husband the big news and are just waiting for the right idea and moment, look no further. The following are some cute ways to say to him you are pregnant, involving just the two of you, another child, friends, and other family members.
1. Homemade Sign
Posting a note that says something like "eviction notice" on an existing crib your child is currently sleeping in or a piece of paper that says, "Do not open, bun in the oven" on the oven door can be a great way to tell the new daddy that you are expecting a baby. It can also involve other people if you prefer to make it a group effort.
2. Get the Family Pet Involved
If talking to your husband about your pregnancy seems boring, consider getting the pet involved. Get a tag or shirt made for your dog that says something like "You're going to be a Daddy!" and have the dog go to your husband until he sees the tag or shirt message.
3. Ask Him to Help with Laundry
Let your husband know he will be a father by asking him to fold a basket of laundry while you do some other household chores. Do not forget the big surprise, though. Carefully put some baby onesies or sleepers into the basket with the other laundry. When he gets to those items, he will be in for quite a shock.
4. The Gift of Sleep
Sleep. It is the one thing you will both likely be lacking once the baby gets here. Leave a sleep mask and a new comfy pillow on the bed for him, with a note that says, "Get plenty of sleep now. Lots of sleepless nights coming soon!" This will almost certainly confuse him, but it will open the door to the next steps: conversation and planning.
For Couples Who Have Been Trying to Get Pregnant
There are a lot of feelings involved when you start having sex with the intention of conceiving. It takes very little trying for some couples, but it can take a significant amount of time for others. Partners in this situation are often shocked and overwhelmed by their emotions when they find out that you are pregnant.
Make sure that you put aside plenty of time to have meaningful conversations about the big news in this situation. You can have a fun announcement, but be prepared for some tears of joy and maybe even a bit of disbelief. Being there for your partner as you both enter this dreamt-about stage of your lives is very important. Remember that he needs your support, just like you need his.
If You or Your Partner Weren't Planning on Pregnancy: Unplanned Pregnancy News
If you have talked with your partner about the possibility of having a child, and he did not seem receptive or willing, the tone and manner of talking to him will be different. There are a few things that you should keep in mind when bringing up the subject of your unplanned pregnancy.
1. Be Honest
You are both adults. Any relationship that includes sex can result in pregnancy. No matter how careful you try to be, there is no sure-fire way to prevent pregnancy outside abstinence.
Having an honest and serious conversation even when your partner is unhappy at the news, or if you do not think he will receive it well is probably still the best route to take. Remember that it is important to your health and your baby's health not to get too worked up. You will only fuel your anxiety by putting it off or trying to lie to yourself or your partner about it.
2. Give Him the Space to Process His Feelings
Even men who have been actively trying to conceive a child with their partners often need a bit of quiet and space to process their emotions. If your boyfriend, husband, or partner needs some time to himself to gather his thoughts and organize and process the way he feels so that he can be there for you and the baby, then give him that room to work through things. Take that time to get some rest. You will need it. Your health is now of utmost importance.
Once he has taken some time to get his emotions in check, sit down, and talk together about everything. Answer all of the questions you can that he may have, and let him know that you are in this together.
You Have A Support System
Regardless of whether you have a happy partner after sharing the news or not, you are not ever alone. There will be times when you feel as though you are, even for the mom-to-be who have tight-knit circles, but help is usually just a phone call or text away. If you feel overwhelmed with the news yourself, look towards loved ones, friends, and the support of professionals. Consider marriage or couples counseling if your relationship needs some work before the baby arrives.
Do things for yourself, like journaling, healthy exercising, yoga, or breathing exercises to center yourself. There are plenty of resources available to mothers. Online and in-person support groups, counseling, therapy, and simply leaning on those who love you will help you get the affirmation you need to proceed with your pregnancy happily and healthily.