Congratulations! You are expecting! It is very exciting news to learn that you will have a baby, and many women and couples cannot wait to spread the news and let their friends, family, and grandparents know that you are adding to your family. Some women want to announce their pregnancy right away, while others prefer to wait a few weeks or longer. Whatever your preference, we have got some great and creative ideas for surprise pregnancy announcements when it is time to share the big news!
When and Who Should You Announce Your Pregnancy To?
When deciding on or thinking about making a pregnancy announcement, there are a few things to consider.
When?
When you should make your pregnancy announcement is a very personal decision, and you should be comfortable with the idea before you do it. Do not allow yourself to feel pressured into announcing your pregnancy before you are ready just because others do so immediately.
If you told your partner immediately, or if your partner was present when you found out, have a discussion together first to know that you are both comfortable when the time comes for the pregnancy announcement. Many women choose to share their big news right away and want the support of their loved ones immediately. Other moms wait until after the first trimester or even longer when the risk of miscarriage drops drastically. The choice is personal and based on your comfort level.
Who?
It is also up to your discretion and comfort level regarding who should know the big news. There are pregnancy announcement ideas that cater to the world or just one person. Do what feels best for you. Most people choose to tell their partner, immediate family, and then parents and in-laws first, followed by close friends before posting on social media. However you wish to announce and whom you wish to announce is totally up to you.
There is a lot of pressure associated with announcing a pregnancy, but remember that this is your baby, so it is your decision to make. Some parents want to tell the world, and others prefer to keep it to themselves. Either choice or one that falls into the middle of those extremes is perfectly fine.
Baby Announcement Ideas
Pregnancy announcements used to consist of just calling your friends or telling your coworkers at the office. Sometimes a newspaper announcement was placed in the local paper to inform the town that you were expecting a bundle of joy. These days, the art of pregnancy announcements has gotten much more creative. There are many ways to share your news with others, from funny to cute, sweet to heartfelt.
Pregnancy Reveal Ideas
Keeping a secret is difficult, and it is completely natural to want to let the world know such big news as pregnancy announcements. You want everyone to celebrate with you, and you want to kick off your pregnancy with love and support that you can look back and remember fondly years from now. The following are some pregnancy announcement ideas that can be used when you want something more than a phone call or a social media status update. Feel free to tweak these to suit your tastes, preferences, and needs.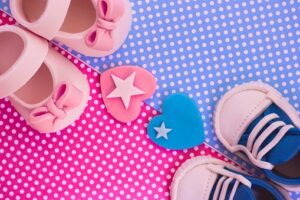 Twin Pregnancy Announcement Ideas
Are you expecting more than one bundle of joy? If twins run in your family, it may not be too much of a shock, and a set of multiples may even be what you and your family were hoping for. So how do you tell the world that you expect a couple of kiddos instead of just one?
Funny Pregnancy Announcement Ideas for Twins
1. Eating for Three
Take a fun picture of mom with snacks, ice cream, or even just a spoon or fork, with a caption that says "Eating for Three." It is a fun little riddle that people will quickly figure out and surprise everyone who sees it.
2. Outnumbered
If you have an older child, posting a family photo with the ultrasound picture or letter board, or even just a caption that says, "About to be outnumbered," is a clever way of letting friends and family members know that you are pregnant with twins. A scared or apprehensive look on mom, dad, or sibling's faces adds a dash of humor to the mix.
This can also be done if you are not expecting twins but having your third child. Just make sure that the whole family is in the photo so that people will understand the message, especially when posting on social media.
3. Two Baby Outfits
While it is normal to see a photo of a letter board and a onesie or baby outfit, a photo of two onesies with a clever script may be the right way to bring your cute pregnancy announcement to the world. You can come up with something on your own, or have one that says, "Mic" while the other says, "Drop," or "Plot" and "Twist," or even just "Copy" and "Paste." Anything cute and clever that caters to your personality and sense of humor will solicit a chuckle or smile from your family members and friends.
Surprise pregnancy announcement
There are many other ways to bring your cute pregnancy announcement ideas to life. Whether you are going for funny or creative pregnancy announcements, try to have fun. There are an endless number of ways to announce a pregnancy.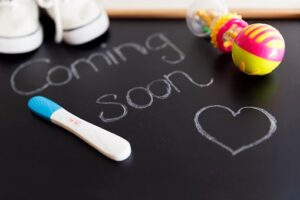 Ways to Announce Pregnancy to Family Members and Grandparents-To-Be
If what you are looking for is something a bit more intimate than a grand social media announcement, it can still be done with some flair and some fun. Soon to be grandparents, your older children, and your partner will likely get the honor of being told about your pregnancy in person, and the ways to do that can range from funny to sincere and sentimental.
1. Positive Pregnancy Test
When you want to announce your pregnancy to your partner or parents, one favorite way for expectant moms to do it is to put the pregnancy test with that positive reading on it in a gift box, along with something like a baby onesie or baby shoes as a fun surprise for your partner and immediate family.
This is the perfect gift for the family who has been anticipating or trying to conceive, and when you announce your pregnancy this way, you can even be right there with the camera ready to snap dad's reaction. Then you can save those photos for the baby book or show off your newest bundle of joy after the baby arrives.
2. Impromptu Photo Shoot
Another way you can announce your pregnancy in person is to stage a quick and fun photoshoot with the soon-to-be big sibling. Have the big sibling hold a pair of baby shoes, a sign or letter board with the due date, or a tee-shirt that says "Big Sister" or "Big Brother" to announce your pregnancy. You can send this photo to your parents, in-laws, siblings, close family, and friends and even use it as your general social media announcement. If you plan to order and mail pregnancy announcements, you can also use the photo.
3. A Tasty Treat
Make or order your partner's favorite dessert and get a topper that says something like, "We're Expecting!" This is sure to surprise your partner, and the setting is often more intimate so that if it gets emotional, there is not a large audience. You can also use decorative baby shoes, a pacifier, or other baby items that can be put on top of a dessert.
4. Let Your Pet Give the News
If this is your first baby, but you have a dog, you can make or order a dog shirt that will announce the great news that the family is growing in a super cute way. Just dress the pet away from your partner, and have the dog enter the room wearing it. Just make sure that the script is not overly small, scrawly, or in the fine print. You do not want to give your partner a hard time reading it while the dog walks around the room. You can technically do this whether this is baby number one or ten. As long as your pup is willing, it is a great and fun way to announce a pregnancy.
Pregnancy Announcement Gifts
If you are looking for creative ways to give a gift to those who are about to welcome a baby into the world with you, there are many ways to go about it. Grandparents to be, as well as dads, partners, and kids, love these little tokens of love from the mom-to-be.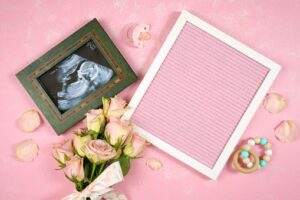 1. First Trimester Ultrasound Picture
Usually, a sonogram or ultrasound will be performed at around eight weeks, and sometimes later (depending on your doctor and when you find out you are pregnant). You will usually get to keep several images that look like a Rorschach inkblot test for those who have not seen one before. But if you look carefully, you can start to make out the little boy or girl, and sometimes even the flicker of the tiny heartbeat.
Framing the first picture and gifting it to your partner or your parents is a great way to give them a first glance at the baby that you all love so much. As the baby grows inside you and the gender reveal ultrasound is performed, you can either replace that earlier ultrasound or gift an additional one. Watch as dad or grandma's eyes light up when they open this heartfelt gift.
If your partner or parent is a book lover, you can send or hand-deliver them the wonderful gift of a personalized book that you can design right from your computer or mobile device. Upload some pictures that showcase your family, relationship with your partner, wedding, the birth of other children, pets, etc. And then end the book with the announcement of your pregnancy and the baby.
Those who are not expecting the news will double-take when they get to that last page and see that another addition is coming to join the family soon. It is a cute way to announce and one that your family can keep and cherish forever. You can even order one for yourself as a keepsake.
2. Gifts to Compliment a Hobby or Career
If your partner is a writer, works in an office, or simply enjoys stationery supplies, replace his or her plain stationery with something personalized. This is one of those fun ways you can give someone a pregnancy announcement gift without being too over the top. You can do this for an expectant grandparent as well.
If someone in the family is a fisherman, you can get a personalized fishing lure to announce the pregnancy. If your mom loves to cook, make her an apron that says, "Grandma." If your partner loves video games, get him a shirt that says "Player One," along with a onesie that says "Player Two."
Giving a gift along these lines to your parents or partner is a way to let your family know that you care about and value their interests and personalities while also celebrating their new roles in the family. There are countless creative ways to do this. Just make sure that you keep the recipient's interests and hobbies in mind when you plan the gifts.
Gifts and Announcements to Surprise Your Loved Ones
If you are looking to really shock your partner or the grandparents of your new baby but just need an idea or two to pull it off, look no further. Here are some great ways to break the news.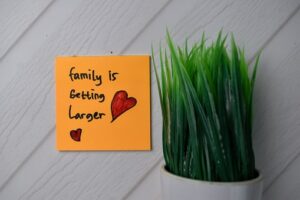 1. Bottom of a Mug or Cup
You can find cups online, in stores, or make one yourself that are fairly nondescript. Printed at the bottom of the cup, though, it says something like, "You're going to be a Grandma!" or whatever the role the person will be getting in the baby's life.
Make the expectant dad, grandma, or grandpa a cup of coffee or tea in the cup, and then say, "Are there coffee grounds in the bottom of your cup?" when they finish the drink. You can say that your coffee maker has been on the fritz lately or any other line that you can come up with. They will look down into the bottom of the cup and see "You're a Grandma!" or similar sentiment.
2. Puzzle
You can order a photo puzzle or a puzzle designed however you want it online. You can have the big news printed onto the puzzle and then give it a gift for an unsuspecting pair of grandparents to solve. Once they complete the puzzle, they will be left with a message that you are pregnant and that mom is getting promoted to the status of grandma. This is a cute idea that can be glued and used to signify that your family member can keep it forever.
3. Christmas Tree Ornament
If you find out you are pregnant around the holidays, you can have an ornament custom-made with the announcement printed on it. You can even get really crafty and make one yourself. Then, just wait until the person you want to gift it to gets ready to put up their tree. Present the gift as just a pretty ornament for their tree, and then enjoy the fun when the news is read on the ornament. Make sure to get a photo of the reaction.
4. Jewelry
If you are looking to surprise your loved ones when you announce your pregnancy, you can give personalized jewelry, and it will be a great keepsake that your family member or partner can keep forever. Many online shops offer personalized necklaces, bracelets, leather cuffs, men's wallets, tie clips, money clips, and more that you can stamp or engrave. You can have the due date, the announcement, or any other words that announce your pregnancy or the new title of the person you are gifting it to put on it.
5. Scavenger Hunt
When you want to tell your partner or older children that you are having a baby, a great way to do it is to set up a fun scavenger hunt. Start with clues that will lead them all over the house or outside (if the weather is nice), and end the game with the news. You can use a photo you have taken announcing the news, the positive test, a cute newborn outfit, a sign that announces you are pregnant, or any idea you come up with to share the big news. The surprise will be priceless.
6. Eviction
If you have a small child who is still in a baby bed or crib, wait until your partner is at work or out of the house and make or print out a fun eviction notice and tape it to the crib. Then, send your partner into the baby's room to do something. Ask them to change the crib sheet, grab the pacifier from the crib, or just anything you can think of to make them go to the crib. They will see the sign you made and immediately be excited and surprised. Just be sure to follow along so you can get a photo of their first reaction.
7. Wine Bottle Announcement
Family and friends can be given a great gift while also getting the good news when you print out or order a wine bottle label that doubles as a pregnancy announcement. Invite family and friends or just your parents over for a nice dinner, and ask your mom, dad, or partner to open a bottle of wine to go with the meal. Hand them the bottle that you have put a special label on, and wait for them to read it and notice that it is actually a pregnancy announcement.
This is a fun way to announce your pregnancy to a group all at once, and the bottle can be kept as a keepsake. You can even have multiple bottles prepared so that everyone can take home their very own. And do not worry, you may not be able to drink it right now, but you can always save your own bottle to toast your baby's arrival after he or she arrives. This makes for another beautiful memory you can share with your partner, friends, or family.
8. Diapers as a Gift
If you can wait to announce to your parents or partner that you are pregnant until a birthday, anniversary, or gift-giving occasion, this idea will surely shock them. Buy a pack of diapers and wrap it up. Give it to your loved one as a gift. If you give this to your parents, they will get the hint that they have just been promoted to grandparents. This also works with partners and siblings old enough to understand its purpose.