Many women overlook preparing for the recovery process and postpartum underwear when it comes to planning your birth and the time immediately after. In fact, some moms who have had other children continue to forget this essential part of recovery. After all, the goal is to bring that little bundle of joy into the world. Postpartum bleeding is typically not high on what expectant mothers think about before giving birth.
This article will help you decide on the best postpartum underwear for you. Postpartum undies are not the most fun topic or item you will shop for in relation to having a baby, but they are necessary.
Stages of Postpartum Underwear
The underwear you will need for your best postpartum experience largely depends upon a few factors. One of the most important factors is your stage of recovery after having given birth. You will likely need to adjust the types of postpartum underwear a few times before you can comfortably wear your pre-pregnancy size undies again.
Mesh Underwear
Mesh underwear is what you are given in the hospital. Hospital mesh underwear is not fashionable, and they typically come in one size. They are large to accommodate the large pad you will have to wear immediately after giving birth. Mesh underwear is stretchy, and they are a type of disposable postpartum underwear that you can toss and replenish as you need to replace them. Mesh postpartum underwear will accommodate a large amount of bleeding and discharge that you will experience immediately following delivery.
The Next Stages
Depending upon what your postpartum recovery is going to look like and your preferred postpartum underwear styles, you can transition from mesh underwear to other supportive underwear that you can wear a large pad in for the next several weeks. Postpartum undies are suggested to be worn until the end of your postpartum bleeding, which usually lasts up to six weeks after delivery or birth.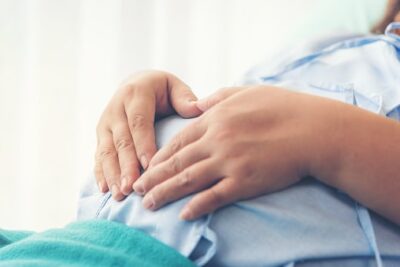 Delivery Method
Another major factor you need to keep in mind when considering what the most comfortable postpartum underwear options are for you is your delivery method. You may not get to know this until you give birth. For example, you may plan to deliver through vaginal birth. Still, the possibility that you will experience complications during labor, the baby or you ends up in distress, or the labor is not progressing is there, and you may end up with an emergency cesarean section (c-section).
Sometimes, women who have had previous c-sections are not offered any other option for delivery, as some doctors find that it is safest to keep to the same delivery method for subsequent deliveries. Other times, you can elect to have a cesarean for various reasons. If you are certain that you know what sort of delivery you will be having, then you can go ahead and buy postpartum underwear ahead of time. If you are unsure, you may be better off leaving your options open or purchasing a few options.
Vaginal Delivery
If you are delivering your baby vaginally, you have more options to choose from when selecting postpartum undies. You will not need to consider the cut of the underwear because you will not have an incision site.
Vaginal birth postpartum moms often report more postpartum bleeding than c-section moms, so consider looking at postpartum undies that offer plenty of coverage. The postpartum period is not glamorous, but that does not mean new moms do not deserve comfort when dressing the postpartum body or choosing postpartum undies.
C-Section Delivery
When it comes to the best postpartum underwear for your postpartum recovery following a c-section, keep in mind that you will have a wound that will be somewhat painful and tender.
You need to consider the cut of the underwear, like high-waisted undies and regular underwear. Your underwear should not cause rubbing on the incision site and c-section scar, which might cause distress in your abdominal muscles during the healing process. Your undies should not be too tight, and they should offer support. Supportive underwear can make a world of difference to the recovery process regarding comfort, healing, and confidence.
The Best Postpartum Underwear by Stage
The best options will change as you progress through the healing process when it comes to postpartum underwear. This is true regardless of what sort of delivery you experience. What works best for you in the first few weeks will not necessarily be the best option for postpartum underwear in the succeeding weeks. The following are some of the best options for you as you progress through recovery.
Disposable underwear
Disposable postpartum underwear is likely your best option for postpartum underwear in the first week or so after delivery. Disposable underwear can be thrown away after you wear them, and you do not have to worry about things like stains, designs, or laundry. The hospital will likely send you home with a few pairs of mesh undies, but there is a good chance these hospital undies will not get you through the first week or so. So what are the best disposable postpartum underwear that you can purchase?
1. Frida Mom Disposable Postpartum Underwear
For a new mom, disposable postpartum underwear probably seems to be about the same as what they offer. None of them looked or sounded like they would be anything comfortable. They are high-waisted underwear made of mesh material that you put a massive pad in.
The Frida Mom disposable postpartum underwear act as both disposable undies and incontinence underwear. New moms like these super stretchy, super-soft disposable postpartum underwear because they are high-waisted boy shorts that are great for moms who give birth vaginally and c-section.
The material used in producing this postpartum underwear is also great if you have sensitive skin, as they are not rough and do not rub constantly. They offer protection from bladder leaks when worn with a pad, and they are ultra-soft, just like real underwear. You can feel feminine and less like you are wearing a diaper after the baby arrives.
2. Always Discreet Incontinence Underwear
When choosing the best postpartum underwear for the first week or two after giving birth, it makes sense to trust one of the leading brands of pads for menstruation, which many of us already love and trust. The maker of feminine pads always offers disposable underwear that will handle bladder leaks well and some of the best postpartum protection and support in the early stages. Always discreet incontinence underwear is a great option.
How Many Pairs of Underwear will You Need?
It is hard to estimate just how many pairs of underwear you will need for this stage of your postpartum journey. The best underwear is those that can offer total coverage. While typically not all that pretty, this special underwear provides extra protection for the heaviest bleeding and discharge periods you will experience after childbirth.
It is generally recommended to have at least two pairs of this type of underwear for the first week. To help cut down on the number of pairs you go through, consider buying high absorbency pads and sleeping with an overnight pad in postpartum underwear to prevent as much leaking as possible.
Support Undies
After the first week or so, you should be able to graduate to support undies for the second week through the end of the first month. Support undies have been found to soothe c-section scars due to their soft and full coverage, and they are typically super stretchy, so they will not be too tight or rub on the c-section incision.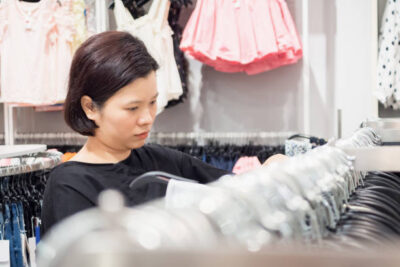 1. UpSpring Baby Undies
Available in most stores where maternity and postpartum clothing are available, such as Motherhood Maternity (sold at Target, Amazon, etc). These postpartum recovery undies are regarded as some of the best postpartum underwear you can purchase when you are ready for the support undies stage of your recovery.
They offer gentle support while you recover from surgery and maybe the most comfortable pair of c-section underwear you will ever purchase. If you have to buy underwear specifically for your postpartum body, you deserve the best underwear possible. Costing approximately $40 through Motherhood Maternity and other retailers, these are pretty expensive, but many women who have tried them will tell you that they are worth every penny. They are high-waisted and have a silicone panel in the front that keeps them from rubbing on the c-section scars of new moms. Highly regarded as the postpartum undies for the early weeks of self-care after a c-section.
2. BaoBei Scallop Support Bloomers
Founded and created by a mom and physical therapist, these underwear are truly top of the line when it comes to postpartum underwear.
When you have a c-section, the skin of the lower abdomen, the lower abdominal muscles, and the protective layer of fat are all cut into and then pulled away from each other to accommodate the baby's passage from the mother's uterus. This is a much longer recovery than a vaginal delivery and can be quite painful. Lots of support is needed during recovery and having the best postpartum underwear possible that offers support is a step in the right direction.
According to tons of reviews, these underwear are even more expensive than the previous postpartum underwear, coming in at around $60, but they are the best postpartum underwear available. The silicone panel sets these apart on a higher level than regular underwear regarding comfort and support offered.
3. Belly Bandit Postpartum High Waisted Smoothing Briefs
These postpartum underwear are some of the best on the market, and they cost considerably less than the other pairs featured in this article ($30 per pair). One of the perks of this postpartum underwear is that it can also be worn before the baby arrives as maternity underwear. They are seamless, so you will not see them through your pants while pregnant or after delivery, and they also have a compression panel in the front that will help you decompress that little pouch new moms carry during postpartum recovery.
Another benefit that these postpartum underwear have is that the crotch of the underwear wicks moisture away from the body and acts as a minimal leak guard. If you are bleeding heavily, you may want to wear a pad to be on the safe side, but these are great for the occasional leak you may experience as you heal from delivery or while still pregnant. In terms of cost, comfort, and support, these are some of the best postpartum underwear on the market.
Other Comfort Measures
You can buy the best postpartum underwear available. However, there are still other products that you can purchase or have on hand that will help you recover after giving birth, making a massive difference in your postpartum experience. The following are some great items and products to have on hand after giving birth to help you feel at your best.
Ice Packs
Having a regular ice pack in your freezer at all times will offer you a great sense of relief in the days immediately following vaginal delivery. If you tear or have vaginal trauma of any type, an ice pack placed in the crotch of pair of undies or directly outside the undies can offer cooling relief to a new mom.
Witch Hazel Pads
A few different types of witch hazel products can help with the burning you may experience after a vaginal delivery. They will help with vaginal discomfort, hemorrhoids, and other mild discomforts you may experience in the days following giving birth. Available as wet pads that you can line a regular menstrual pad with or as a liquid you can put onto a pad or apply directly to the body, witch hazel pads help calm the burning feeling you may feel after the baby arrives.
If you choose to use the liquid version, there are bottles you can use to spray or apply to the body or a pad. Frida Mom offers one that has a solution with it, and many other manufacturers sell this product, called a "peri bottle," at many different price points.
When Can You Go Back to Regular Undies?
There is no precise timeline for when you can go back to wearing your pre-pregnancy undies. The choice is totally up to you. Some women choose only to use the hospital mesh they are sent home with and then transition straight into regular cut underwear.
However, it is suggested that you wear postpartum underwear for the best postpartum recovery and the highest comfort level six weeks after delivery or birth. Not only are you saving your own undies from being ruined, but you are also giving yourself the belly support you need and more comfort and protection from leaks.