It is a club that no one wants to be a member of. Those who experience pregnancy loss feel the devastation that cannot accurately be put into words, probably not even by the best writers. A grieving mother feels many things after a pregnancy loss, and grieving parents struggle to be there for each other while also trying to process their own grief.
A family member or friend of a grieving parent probably feels like there is nothing that can be said that will make the situation any better. You do not want to say the wrong thing, but being there for your loved ones during their time of grief while honoring those precious few weeks in which the pregnancy existed is a tightrope walk at best.
We have outlined in this article some words of comfort for miscarriage, advice, and quotes to help during this difficult time.
Understanding the Grief
No one experiences or handles grief the same way. There is no right or wrong way to handle it—only your way. Anticipating the birth of a child and then losing that child means carrying guilt, sadness, and almost unbearable grief for a very long time. The mother of that lost child constantly thinks about what the baby would have looked like, what their personality might have been, and the outfits and nursery they had planned. So many dreams and ideas and love and hope are gone.
Often there is accompanying guilt that plagues the mom, even when she knows that the loss was not her fault. Sometimes there is anger associated with the trauma. No two people handle such a blow the same way, and being there for a person dealing with the trauma is perhaps the most important thing you will ever do as their friend.
Unique Pain
There is an old saying that a man who loses his wife is a widower, a person who loses their parents is an orphan, but there is no term for a parent who has lost a child. Babies lost to causes that are often not able to be explained is something that is, quite frankly, unfathomable to most parents, and when it occurs, there are no words that can ease the pain.
The loss of a pregnancy is unique because the parents and family must grieve the loss of someone they never met—did not get to see and did not get to hold. Countless ideas filled the heads of everyone who was so thrilled to welcome the baby. Many "what might have been" are discussed, thought about, and cried over. The only comfort these people have, at least initially, is knowing and understanding that the existence of the pregnancy was not insignificant and that for the small amount of time that the pregnancy thrived, that small life spoke volumes.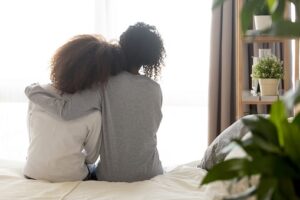 How to Be There for a Loved One
People who experience the pain of a miscarriage go through the stages of grief just like anyone else who has lost a loved one. There is a period of denial, hopelessness, anger, sadness, and a painful and quiet acceptance. That hole left in their heart may never be fully filled, but it can be replaced with something like hope and faith and support from their loved ones.
1. Offer Help and Support
It can feel awkward and confusing to reach out to someone you care about who has lost a child. But being there for them, whether they ask for help or not, makes the difference. The parents of that child will remember that you were there, in whatever capacity they needed, and they will appreciate it.
It can be as simple as saying, "Hey, I know you're hurting right now, and if you need anything at all, I'm right here." This can help them find free resources like support groups and counseling. If they need help seeking professional help for their grief, you can help do the leg work so they can just grieve and process their heartbreak.
Be there in whatever way they need. It may be cooking, watching the older children, sending flowers or cards, or other small gifts. Do whatever you can to reach out and let the parents know that you love and care for them.
2. Use Common Sense
Pregnancy loss is no different from any other loss, and downplaying it to parents or anyone else is inappropriate. Failing to understand the pain of the grieving parents might imply that you either do not care about or do not understand the weight of the grief they are going through.
Never tell grieving parents that they are lucky they have other children. Never tell them that they can try to have another child again. Never tell someone that they were not "very pregnant" or that at least it was not an infant loss, which is much worse. Do not ever, under any circumstances, tell a grieving parent that everything happens for a reason. It is much better to stay silent than to offer such hurtful words.
Loss is loss. When someone you love experiences a miscarriage, it is a great time to develop a sense of empathy and just love the person as best you can, even if you do not understand it. If, by any chance, you do not understand the weight of the loss, consider yourself lucky.
What to Say to Those Who Have Experienced Miscarriage
Many people, when reaching out, send cards, flowers, or small gifts to honor the life of the child the world never gets to meet. It is often appropriate to include a sweet quote to help lift the spirits of the grieving mom or dad. Many miscarriage quotes can be used that are sensitive, beautiful, and heartfelt.
While inspirational quotes may seem superficial to extend in a time of grief, it has benefits too. Many parents honor their children by getting things like headstones, memorial stones, or other keepsakes with quotes in or on them. It is a good idea to offer help and support first and then words of comfort through quotes that can be kept and cherished by the mother and father. The most important thing is that parents know they are not alone.
The following are sample messages you can give your loved ones, especially if you find yourself not really knowing what to say but want to provide loving words after a miscarriage. Many women understand the pain of miscarriage, and those who have been through it can often offer a greater sense of solidarity.
If you have experienced this pain, you understand that there is perhaps no greater agony. It is appropriate to pass on any powerful or meaningful quotes that have helped you through your darkest times of grief.
Words of Comfort for Miscarriage
You may feel the need to talk to the person you love about their loss or let them know that you are there for them and that they can always reach out to you when they need someone. Every woman should feel as though they have someone all the time when they go through the loss of pregnancy, and women should be there for each other when they can, especially during the most challenging times.
If you are not a person who knows what to say to comfort others, as many people find themselves in these situations, there are words given by other people that can help and lend a hand in these devastating times.
Miscarriage Quotes
The following are examples of quotes that can be given in times of grief, after support options have been offered, or alongside support options. The scale and number of feelings a woman experiences when she loses a child are vast, and even if the quotes are painful now, they will likely be cherished and appreciated one day. These may even give her hope and strength.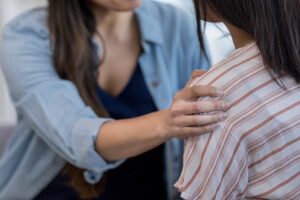 1. Unknown Miscarriage Quotes
Many quotes with unknown origins can be used in times of loss and sadness. A quote offered in a time of loss and crisis for a family does not have to be specific to the exact situation. Miscarriage quotes can be any quote that acknowledges the feelings of the person. Any quote that you find that you think will lend power, grace, love, and honor to the untold story of the life lost is appropriate. A few examples are as follows:
"Grieving is like having broken ribs. On the outside, you look fine, but with every breath, it hurts."
"Death leaves a heartache no one can heal. Love leaves a memory no one can steal."
"Life need not be long-lived for it to be meaningful."
"He was born silent into this world, but their little life spoke volumes."
"Your wings were ready, but my heart was not."
"Because someone we love is in heaven, there's a little bit of heaven in our home."
"Before I carried the pain, I carried you. And in my heart, I carry you still."
"It is perfectly okay to admit you're not okay."
2. Heartbreaking Miscarriage Quotes
These are the tearjerkers. The ones that induce tears and hurt the heart, especially for the woman who has undergone a physical miscarriage. These go deeper than "sorry for your loss" and pack a punch. Use discretion when providing these quotes to friends and family. Remember that this is a unique pain, and you do not want to amplify it.
"You didn't stay for long, but in those precious few weeks, you changed me forever." – Zoe Clark-Coates
"Sometimes the smallest things take up the most room in your heart." – A.A. Milne
"It hurts because it matters." – John Green
"Babies lost in the womb were never touched by fear. They were never cold, never hungry, never alone, and importantly always knew love." – Zoe Clark-Coates
"There is a unique pain that comes from preparing a place in your heart for a child that never comes." – David Platt
3. Comfort Quotes
Other quotes offer a quiet sense of comfort in times of great loss and speak to the mother who has lost a child, especially during pregnancy. They can provide a small sliver of hope because they speak of love rather than loss, and they can work towards seeing the beauty of the love that existed and will always exist between the mother and the child.
"I held you every second of your life." – Stephanie Paige Cole
"Grief, I've learned, is really just love. It's all the love you want to give but cannot. All that unspent love gathers up in the corners of your eyes, the lump in your throat, and in that hollow part of your chest. Grief is just loved with no place to go." – Jamie Anderson
"The best and most beautiful things in the world cannot be seen or touched. They must be felt within the heart." – Helen Keller
"A person's a person, no matter how small." – Dr. Seuss
"There is no time limit to healing. You take as much time as you need." – S.L. Gray
Other Things You Can Do
After you have offered words of comfort, there are other things you can do for the women you know who have experienced the heartbreak of a miscarriage, even long after the event itself. Even though it is only fresh in your mind and heart for a little while, it likely weighs upon your loved one forever. The following are ways you can continue to support the women in your life who have gone through infant and pregnancy loss.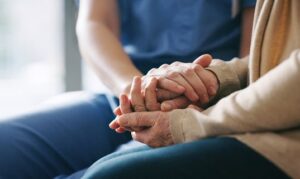 1. Honor the Due Date
Some moms choose to avoid the due date if they can, while others choose to celebrate it, much like they would celebrate a birthday. Write down or remember the due date, and always offer any help or support you can on that day each year. If distraction is needed, provide that distraction with a day date, movie night, phone call, or other activity. If involvement and focus on the baby are needed, then do whatever you can to fully honor the child's life, no matter how short it might have been.
2. Say Their Name
If your friend or family member named their baby, say it. Do not refer to the baby as "the baby" or "the miscarriage" or any other generalized term. Give it a name—use the name. It shows respect and honor and helps validate the family's grief.
For example: "Isn't Jack's birthday coming up? Would you like to do something special to honor him?"
Doing this ensures that your friend or loved one knows that the child lives on in your heart forever and was not and never will be just a fleeting memory or tragic thing that happened in the world.
3. Celebrate a Rainbow Baby
A rainbow baby is a term used for a baby that comes after a miscarriage. Often, their families regard these pregnancies with hopeful apprehension and fear, worried that something terrible could occur and result in another loss. Take this opportunity to celebrate. Do everything you can to show hope, love, and excitement. Celebrate this new chance at life. That can be by sending a written word or two of encouragement in a text or card or even offering a ride or childcare for other children during the pregnancy.
Rainbow Baby Quotes to Share
Much like how words of love and support were meaningful during the loss of a pregnancy, words of love and support can be meaningful during the pregnancy of a rainbow baby. It is a very vulnerable time and a roller coaster of emotions for many, and your words can give the gift of love and hope when needed most.
"The greater your storm, the brighter your rainbow." – Unknown
"The way I see it, if you want the rainbow, you gotta put up with the rain." – Dolly Parton
"Dreams really do come true. My sweet rainbow baby, I've been waiting for you." – Unknown
"Somewhere over the rainbow, skies are blue. And the dreams that you dare to dream really do come true." – Wizard of Oz