Baby clothes are one of the most fun things to shop for when you are expecting. With so many options in newborn clothing, it is easy to get carried away. But if you are on a budget, trying to plan ahead, or making a baby registry for your baby shower, you may be wondering how many baby clothes you need in newborn size.
Newborn size clothes are grown out of quickly. In fact, most of your baby's clothes will grow out quickly. Little ones grow quickly in utero, and the rapid growth does not stop once they make their grand entrance and go home with you. So, how many newborn clothes do I need? Continue reading to find out.
A Baby Clothes Checklist
You are going to get a lot of baby clothes as gifts. You will pick things up along the way during your pregnancy when you see them and like them, and you will likely shop again right before the baby is born. Keeping a baby clothes checklist is a great idea with all of these new things for your newborn coming into your home before the little one arrives.
Having a checklist will ensure that you have all of the essentials for your newborn baby, such as clothing to keep the baby warm, clothing for the baby to sleep in, and clothing for the baby to wear when they outgrow one size of baby clothes and graduate to another.
This article will help you make that checklist for baby clothes so that you do not purchase too many newborn clothes, have the right items, and are ready for the next stages of growth. So if your question is "What clothes do I need for my baby?", then you have come to the right place.
How Many Baby Clothes Do I Need to Have?
Some babies never wear the same outfit twice, while others are dressed in the same few rotated outfits. There is nothing wrong with either scenario. It depends on your personal preference and how often you can do the laundry to ensure that you have clean clothes for your baby while considering your budget.
Always make sure that you have enough clothes for your newborn baby and older infants to last you through one load of laundry. The average baby spits up, soils, or dirties outfits fairly often, so it is not an unheard-of situation to change your little one's outfit more than once or twice a day. If you do a load of laundry every day, you may get by with just a few pieces of clothing items. However, if you only do laundry once or twice a week, you may need a few more baby or newborn clothing pieces.
Newborn Clothing Essentials
When we use the word "essentials," we mean that they are needs rather than wants. You can have all of the extras you want and can afford, but for the sake of this list, we are going to stick to how many clothes you need to have. Anything outside this need is just extra baby clothing. The following are items that should be on your newborn clothes checklist.
1. Newborn Pants
When it comes to the baby's feet and legs, you need to have at least a few pairs of pants and some baby socks regardless of the season. Keep in mind that a baby begins life without the ability to regulate its own body temperature. So even if your baby's life begins in the heat of the summer, you will still need to keep your baby's feet covered when your baby girl or boy is inside where an air conditioner is being used.
You should keep three to four pairs of warm pants for the baby and socks, even for summer babies. It is important to keep those little toes warm. It is always best to have four or five pairs of socks for your newborn. If the baby's arrival does occur in the summer, you may want to have an equal amount of pants and shorts or skirts/dresses for a baby girl. When choosing separate pieces, you might want to find bottoms that will go well with tops to create cute outfits.
Stick with soft material, especially in the early weeks with your new baby, as it is important to keep the baby comfortable. Babies grow quickly, and there will be plenty of time for stiff jeans and dress clothing items as the baby grows. It may be better to protect their comfort and sensitive skin and stick with leggings, stretchy pants, and elastic waists at newborn size.
2. Newborn Tops
When trying to figure out how many baby clothes are necessary for a newborn baby, consider the fact that you will likely want a few separate outfits that can be mixed and matched and a few one-piece outfits.
When selecting tops for your newborn, it is always good to have a couple of long-sleeve onesies and short-sleeve onesies, regardless of the season. It is usually warm inside if you have a winter baby, and you do not want your baby to be overheated, so having short sleeves is a good idea. The same can be said of the summer. Having a few long-sleeve shirts or tops is also a good idea when you are inside your home where the temperature is cool.
T-shirts, especially onesie-styled ones, can lend an extra layer to be worn underneath thicker and warmer tops. Depending upon your baby's weight, body type, and general health, you will quickly find out how well your baby handles their body temperature and can then either dress them in layers or a single and cooler outfit. Having the options on hand is always the best way to be prepared. It is best to have five or six tops in newborn sizes for your little one.
3. One-Piece Outfits
Having one-piece outfits, such as rompers, dresses, and footed sleepers is a great way to have—one outfit that is fully assembled and ready to go. There are many clothing designs and color options, and these one-piece outfits are great when worn over a short-sleeved onesie, giving you extra layers when needed.
Snaps at the crotch of the outfit make a big difference when it comes to changing diapers, and you will be thankful for a quick diaper change in those first few months when your newborn is going through diapers every few minutes. It is best to have 2 or 3 one-piece outfit options for your baby. It makes for fewer separate pieces of clothes to buy, is convenient, and it can save money.
4. Pajamas
Some moms insist upon dressing their baby up every day, while other moms love a pajama day for a newborn. If you are part of this second group, you will have fewer clothes to buy, but if you like the option of outfits and playing dress-up, that is fine, too. When you put the baby down to sleep, you want comfort and warmth. Having snug and well-insulated pajamas will help the baby sleep longer and soundly.
Long babies do not always fit well into pajamas that have feet sewn on, so in this case, it is best to have two-piece pajama sets. If the baby's toes are cold, you can add socks. A mix of both types is usually best. Having several sleepers with feet and two or three two-piece pajama sets is a great idea for bedtime after the baby is born.
5. Extra Protection and Items for Babies
Depending on the season and your budget and preferences, you may want to include the following items on your checklist.
Special Occasion Outfit: This can be worn for hospital photos, a newborn photoshoot, or any holiday.
Newborn Shoes: These can add a bit of cuteness to an outfit but are not necessary. A baby cannot walk at the newborn stage, so shoes are for aesthetic purposes only.
Burp Cloths: These are lifesaver items that can help protect your baby's outfit and your own. Spit-up happens to all babies, and having a barrier between your baby's face and anyone's clothing item is a good idea.
Wide Brimmed Hat: Having a sunhat, bucket hat, or beach hat will keep the sun out of a newborn's face. Having a thick insulated hat for the winter months is also good for many newborn babies. It will help prevent ear infections, illness, and even windburn.
Headbands/Hair Bows: Many moms dress up their little ones in headbands that match their new clothes to add a cute flair of style to any ensemble. If you are looking to do this while saving a little money, shop for outfits that come with matching headwear.
How to organize baby clothes
There are many options for organizing baby clothes, and the best way to go about it depends upon how much space you have available to you in your home. You can hang, store, or fold your baby clothes to give you easy access to your child's outfits.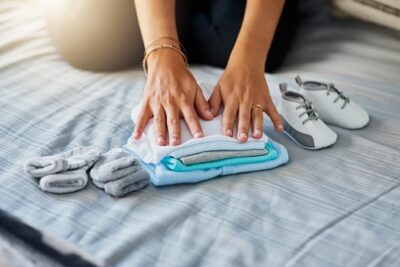 1. Hang Them Up
If you have closet space in your home that you can devote to baby clothes, you can choose to hang outfits up by size, color, or type of outfit. There are baby hangers made explicitly for those tiny tops and pairs of pants.
The Upside Down Hack
If you want to hang clothes up in a closet but have limited space or hangers, there is a great "mom hack" you can try. Turn the onesies that have snap crotches upside down, and snap them closed on the long bottom part of the hanger. You can typically fit three newborn size onesies on a hanger this way. This method will save you a lot of space and makes for fewer hangers you will have to purchase.
2. Store Them
Storage organizers, storage containers, and bins are great ways to keep your baby's clothes organized and put away. You can separate them and store them by their type of clothing item, size, season, or color. Labeling the container, drawer, or space you store them in will help you keep everything where it is supposed to be and aid in finding exactly which clothing piece you are looking for.
3. Fold Them
You can also choose the old-fashioned dresser or chest of drawers to store your child's clothing. Just fold the pieces and put them into drawers. You can even rotate the outfits by putting clothes your child has worn most recently in the back of the drawers and moving outfits your baby has not worn yet to the front progressively to make sure your little one wears each outfit at least once before they outgrow them.
How to Fold Baby Clothes
There are many ways to go about it when it comes to folding baby clothes. You can fold each piece separately and then store it or fold each outfit together. Folding an outfit together can be done by taking the top or shirt, folding it in half longways, and then folding it again to resemble a small square. Then, take the pants or bottoms to the outfit, fold the legs together, and fold the pants once over the entire shirt. This will create a small bundle that you can store together, so you do not need to search for the right outfit.
Popular Trend in Folding Baby Clothes
Marie Kondo became an immediate sensation in the world of organization and folding clothes of all types to fit them into all sorts of tight spaces. There are many tutorials on her methods, and fans swear by her practice of minimally saving space and living.
Saving Money on Newborn Clothes
If the question "How many newborn clothes will I need?" makes you nervous or has you worried about your budget, rest assured that there are many ways you can save money and still clothe your baby in cute newborn-size clothes. The following are some ways you can save.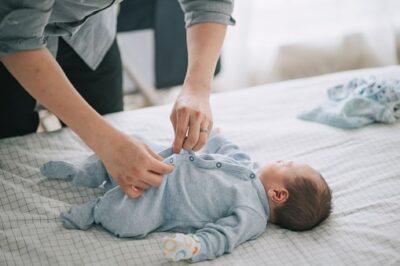 1. Buy Used
Resale shops, online consignment, yard sales, and hand-me-downs are great options for clothing that your baby will only wear a few times anyway. Just be sure to wash them first before you dress your baby in them.
2. Find a Discount Code if Possible
When buying new clothing for your baby, look to see if the retailer has any online discount codes you can use. Many retail websites will give you discounts for signing up for their newsletters or emails. Many also have rewards programs that you can use to get even deeper discounts.
3. Save Your Old Baby Clothes
If you have older kids, consider storing their baby clothes so you can reuse them for your newborns in the future. Outfits passed down from one child to the next are a great way to save money and cherish old memories from when your older kids wore the same things. You can even take pictures to compare how one child looked in an outfit and then the next child.