Car seat stages can be confusing. You have got rear-facing car seats, the forward-facing car seat, booster seats, and then the question of when a child can ride in the front seat. With all of these different types of car seats available, and every type of vehicle seat imaginable, it is important to know what stage of car seat your child should be in and how to install and strap your child in safely.
This article will define the car seat stages, the different types of car seats available on the market, and how they are best installed in a vehicle seat with either the base they come with or with a seat belt.
The Importance of the Right Car Seat
Car seats save lives. Gone are the days when parents would simply set kids loose in the back seat (or the front seat) of a car and drive off, fully trusting the vehicle, their driving, and the driving of everyone else on the road to keep their family safe. Now we know better.
Car Seat Stages Explained
Car seat stages depend upon more than just age. You should also pay attention to your child's weight and milestones. Some children have developmental disabilities or delays, which means they are safer in a car seat for a younger age bracket for a longer period. To start with, let us break down car seat stages by age group.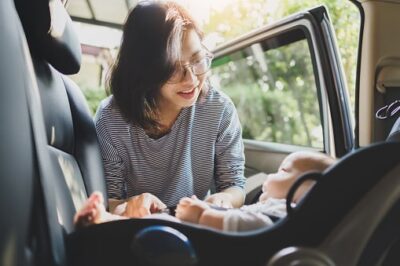 The Rear-Facing Car Seats
Rear-facing car seats are necessary for all infants and toddlers. Look at the individual car seat that you purchase and keep them rear-facing until they hit the maximum weight or height limit. Many parents think that if they have a tall toddler, they need to switch to a forward-facing car seat before the maximum weight limit has been reached. This is not so, and doing this will not offer your child the most safety.
Children are quite comfortable in a rear-facing car seat throughout their toddler years. They are flexible, and most toddlers are more content in a smaller space anyway. A rear-facing seat will offer the most protection possible for your infant and toddler. Just ensure to read the car seat manual for the correct installation instructions.
The Best Rear-Facing Seats
According to experts, parents, and retailers, the following are some of the best rear-facing car seat options on the market. If your current car seat is rear-facing or you are about to have a baby, you want to do your research to get the most out of your child's seat.
Chicco Keyfit30 Infant Car Seat
This infant seat does it all, and you will love knowing that your child's fragile head will be secure for the entire ride every time you secure your little one into this seat. This seat has a bubble level to be sure that you have secured it in the correct position, and it also fits into Chicco strollers. It also stays in the rear-facing position but loosens and tightens by pulling on just one strap, which will make it much easier to secure your baby in the rear-facing position. You will love this seat until your little one exceeds its weight and height limits, which are 30 pounds and 30 inches.
Britax B-35 Infant Seat
This seat goes above and beyond the required safety measures to bring you a seat that will give you confidence. Not only is your child's head protected by the padding, but this is one of the safest infant seats out there since it has a steel frame and an energy-absorbing base. Your child's head, shoulders, upper thighs, legs, arms, you name it, will stay much safer in a collision with this seat. This seat's weight and height limits are 35 pounds and 32 inches.
The Convertible Car Seat
A convertible car seat is usually one that parents buy that will grow with a child. Unlike the "bucket" type infant car seats, a convertible seat can be used in the rear-facing or forward-facing position. Most parents transition their infants from the newborn or small infant car seat to a convertible seat around nine months, which is generally when the infant starts to exceed the weight limit for the seat.
These convertible seats can be strapped in with the seat belt in the vehicle and can be rear-facing for when your child is still an infant or toddler, and then switched to a forward-facing car seat when the child is big enough. However, keep your child rear-facing for as long as possible, as this is the safest positioning in a vehicle.
The Best Convertible Seats
There are many seats of this type on the market. Whether their point of pride is the forward-facing or rear-facing, all seats sold by retailers are safe and have been tested. However, the following are two of the best on the market.
1. Safety First Car Seat
For many reasons, the Safety 1st Grow and Go 3 in 1 are well-loved seats. The headrest and the harness straps adjust in only one movement, which means you do not have to spend much time tinkering around to make adjustments. There are also two pillow inserts, so your baby is in the seat tightly.
However, the biggest bit of allure of this seat is the fact that this seat works for children who weigh between 5 and 100 pounds and are up to 52 inches tall. This seat breaks down and becomes a belted booster seat that you can use with regular adult seat belts or lap belts. The only real gripe this seat gets is that it can initially be a pain to install.
2. Chicco NextFit
This seat is a hit for several reasons, but one of the biggest is that it will fit in nearly any vehicle, and installation is a breeze. It has nine levels of adjustment or reclining settings and can be used as a rear-facing seat or a forward-facing seat. It can also hold a child up to 65 pounds and 49 inches.
3. The Forward-Facing Car Seat
Forward-facing car seats are for toddlers and infants who have exceeded their rear-facing seats' height and weight limits. Again, convertible seats are a great choice, as the seat can just be turned and readjusted. You get more car seat use from one device this way and may save a little money in the long run.
This seat usually has five-point harness straps and a padded body with a high back, so it is much safer to continue using until the weight limit and height limit are reached. This seat will usually accommodate a child up to 65 pounds, which is well into the school-age years for many children.
4. The Booster Seat
Booster seats may not look like much, but they offer a lot of protection. Small children were not really kept in mind when vehicle seat belts were designed, and the position of most seat belts, even at their lowest setting, is usually too high for a small child. A belt-positioning booster seat can be the difference between life and death for a young child.
This seat belt positioning can cause severe and even fatal injuries to a child in a vehicle crash if they are not in an appropriate car seat for their size and age.
High Back Booster Seat
Another option for booster seating is the high back booster seat. It almost looks similar to a convertible car seat or a traditional car seat but is forward-facing and secured with a lap belt or shoulder belt. These offer an elevated level of protection for older toddlers and children because they offer padded back and head support. Some even have five-point harness straps.
5. Seat Belts
When a child has reached the height and weight limits of a forward-facing booster seat, they can move on to sitting in the car seat, in the back seat, with a seat belt. A child's body needs to be big enough to not be at risk for a vehicle seat belt, so continue to use a backless booster seat, high back seat, or convertible car seat until your child exceeds the limits set.
When Can Kids Sit in the Front Seat?
No child under the age of thirteen should ever be in the front seat of a vehicle. When a child outgrows their car seats and has progressed through all four car seat stages, they can sit on the vehicle seat using the vehicle's seat belt. However, at some point, your child will want to sit in the front seat, and you have to know when it becomes safe for them to do so. If there is a passenger airbag, you need to seriously consider whether it is worth it to allow a child aged thirteen or over to sit in the front, where they risk injury due to the adult seat belt and the airbag.
Optimally, you should not allow a child in the front seat unless necessary. For the child's safety, the back seat is best. However, sometimes that is just not feasible or possible. If your child is over thirteen and no longer needs a booster seat, discuss child passenger safety with your teen, and they can ride in the front seat.
Can You Buy A Used Car Seat?
Used car seats can be found online, at yard sales, and by friends and families who have moved up one car seat stage or more and are ready to pass the seat on to someone else who can use it. Used car seats are okay as long as you have a few vital pieces of information before purchasing.
Has it Ever Been in an Accident?
Child passenger safety is of utmost importance, and you should never use a car seat that has been involved in an accident. It does not matter how new the seat was when it was in an accident. The reason for this is that the seat has been stressed. Combination seats like convertible style seats can come apart from cracks in the hard plastic that you cannot see, rendering them less safe.
Has the Brand and Model Been Recalled?
No one expects you to know the recall history for every seat of all four car seat stages, but when you look at a used car seat, look up the particular brand and model to see if there has been a recall on it. This is important because recalled car seats are not safe. If your child outgrows seats quickly and will not sit in them for long, never purchase a used, recalled seat.
Check the Expiration Date
All car seats have an expiration date. Before using or purchasing a used seat, check on the actual physical seat for the manufacture date, and then look up how many years that seat is good for. Do not use the seat if it is close to or past its expiration date.
Conclusion
There are a variety of different car seats for different stages of your child's growth and it's important to understand which car seats work best for each stage, to ensure you keep your child safe and secure. It's also important to ensure that if your children ride with friends or family that they understand how you wish your children to be secured and whether or not you are comfortable with them riding in the front seat.