When you start planning about the baby's arrival, the number of things you need to have, especially for those first few weeks, can be overwhelming.
One of those top things is a receiving blanket. You may wonder, "what is a receiving blanket" and why it is necessary.
The receiving blanket is actually the very first piece of clothing that your baby will wear, and that's why it's called a receiving blanket.
US hospitals use the iconic pink and blue stripes cotton blanket, but you can get your own in stores made from different materials such as flannel, cotton, muslin, or bamboo.
This soft blanket is commonly 30 inches by 30 inches, but you can find them smaller or larger if you wish.
The name receiving blanket came from when nurses swaddle newborn babies with it before giving them to their moms.
They are very practical and versatile, so it's good to have 3 to 4 of these for multiple purposes while the baby grows.
What is a receiving blanket?
What is a receiving blanket? It is one of the top baby shower gifts because everybody needs them. They usually come in multipacks and in a variety of materials and designs.
As we said before, many hospitals worldwide provide one when the baby is born in the maternity ward and use it to swaddle up the newborn upon presenting them to their mothers. Those are typically made from cotton and tend to be gender-neutral, but you can find all kinds of patterns, colors, and designs to suit your preferences.
Keep in mind that a receiving blanket must be made from a breathable, lighter-weight material that insulates the baby and helps them regulate their body temperature, but not to the point of overheating them, and that's why the most sought after materials are cotton, muslin, and fleece. There are polyester options, but that material is not as breathable as those mentioned earlier.
Uses for a receiving blanket
Besides using it for its intended purpose of swaddling a newborn baby, there are many other uses that make a receiving blanket so practical among baby products.
Receiving blankets can be used to wrap the baby right after a warm bath, so it dries them and retains some of the bath's warmth. Remember that exposing newborn babies to cool temperatures or sudden changes can cause them to catch colds, and this is something we want to avoid at all costs.
Also, if you're taking your baby for a stroller ride around the block or to a park, you can use the receiving blanket to cover the stroller to protect them from the sun or sudden rain. You can also use it to cover the baby while lying in their car seats if you want them to sleep longer and snuggly.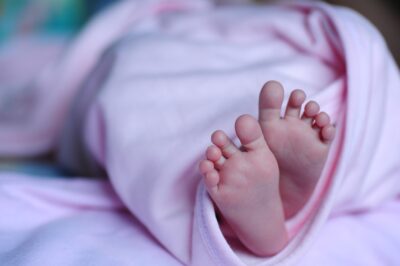 If you need to breastfeed in public or with other people present and don't feel comfortable doing it while others see your breasts drape a receiving blanket on your shoulders like a nursing cover to provide some privacy for you and the baby.
Have no clean burp cloth at hand? Grab a receiving blanket and fold it into an oversized burp cloth to catch any spit-up from your baby. It may even be more useful since it's larger than a standard burp cloth.
If your children are messy eaters receiving blankets double as oversized bibs or cleaning rags, especially when you're not at home.
If you need to change your baby in a public restroom or on a changing table that you're not sure how clean it is, placing a receiving blanket to cover it can act as a barrier to avoid germs or spending more time sanitizing the table.
Even at home, if you need to do a quick diaper change on a bed or couch, use a receiving blanket as a furniture cover to avoid getting those areas dirty during those newborn days.
If you have a larger sized receiving blanket, you can place it on the floor as a play mat when visiting your relatives and friend's place so you can have some peace of mind while the baby plays on a safe, clean, and limited area where you can keep an eye on them at all times.
For years, pediatricians have recommended using security items as a type of emotional support for children in the early stages of life. Receiving blankets has been part of their life since birth, so it makes perfect sense to use their first blanket as a security blanket or at least give them the chance to use it as such because, in the end, it's the child who will ultimately choose their security item.
You can also use it to entertain your children while playing peek-a-boo with them and enjoy a fun time with giggles, and there are a few things more magical than the sound of a happy baby.
Receiving blanket size
The most common receiving blanket is the one provided by the hospital, and those are rectangle-shaped and about 30×40 inches in size.
You can find other options like square ones sized 24×24 inches or big ones sized up to 44×44 inches.
Choosing the correct size will depend on personal preference and its overall. If you plan to use it exclusively as a wrapping baby blanket, then the smaller ones will suit you. But if you intend to use it to cover areas and protect the baby from the elements, for example, then try a larger one instead.
Swaddle blanket vs. receiving blanket
Swaddling a baby refers to wrapping a baby so that they feel comfortable and secure and reminds them of the feeling they had while they were inside the womb. It's a practice recommended to soothe babies and help them sleep better. And remember, a baby that feels comfortable sleeping will sleep for longer periods, allowing you to rest as well.
Although a receiving blanket can be used to swaddle babies, the truth is that swaddle blankets have been specially designed for the task and make it easier to accomplish it. And let's be honest, not everyone can master baby swaddling with a standard square or rectangle blanket.
The significant difference between a receiving blanket and a swaddle blanket is that a swaddle blanket has two winged sides to facilitate swaddling. Sometimes they even have Velcro or buttons to keep the baby snug and secure.
Swaddling a baby with a receiving blanket tends to require more practice. There's a learning curve to keeping babies warm, snug, and secure, especially considering the safety guidelines to prevent risks in swaddled babies.
Precautions while using a baby blanket
As with everything you get for when the baby arrives, you must educate yourself on how to use the baby stuff so they don't pose a potential risk for the baby. Receiving blankets may seem harmless, but babies, especially newborns, have a higher risk of suffocation than older children.
If the necessary safety precautions are not taken, the chances of a baby blanket smothering and suffocating a baby or causing sudden infant death syndrome (SIDS) increase. Pediatricians recommend that up until the age of 12 months, the cribs should be free of blankets, bumper pads, soft toys, pillows, comforters, and any other soft object that could potentially wrap around a baby's head or block their airways while sleeping.
So, if you choose to use a swaddle blanket or a receiving blanket to swaddle the baby, there should be supervision of the baby. If you want the benefits of swaddling a baby during the nighttime or as they fall asleep, there are pajama sets and baby covers designed to be worn so that they don't become a hazard for the baby.
Sleep sacks are an alternative to baby blankets because they are worn on top of the pajamas, cover the baby's feet and keep them warm without being lost. Since they are wearable, the baby can't take them off and place them on their faces, so they can't suffocate with them.
Some sleep sacks are weighted to offer more comfort and help the baby sleep more soundly, more or less offering the same sensation and benefits as swaddling blankets.
Also, if you keep the baby's room temperature around 70 to 75 degrees and dress your child appropriately to sleep, they might not need to be swaddled up, which can be a good starting point.
Whatever you choose, keep in mind that once your baby starts rolling over on their own, you should stop swaddling altogether.
Choosing the perfect receiving blanket
Whether you want it for your new baby or are planning to buy it as a baby shower present, here are some things to consider when choosing to receive blankets.
Get more than one. Receiving blankets are so multifunctional and practical that you will want to stock up on them and have more than one available at all times. Babies get things dirty quickly, so you'll be continually changing them, and with washing them comes wear-and-tear on the fabric. Have a few receiving blankets on use and keep some stored, so you always have a spare when needed.
The material is key. Receiving blankets should be a soft, thin blanket made with breathable fabric. Choose the material by considering the weather and average temperature of the place you live. If the receiving blanket is made from a too warm material, it may overheat the baby.
Size does matter. Most receiving blankets, including hospital receiving blankets, are sized 40×30 inches. But depending on the purpose and future use you pretend to give the blanket, you can find them smaller or larger.
Receiving blanket vs. swaddle. This all-time battle can be settled if you ask yourself these questions: will I be using the receiving blanket to swaddle the baby? Do I know how to swaddle a baby with a receiving blanket? Do I want to get through learning how to swaddle with a receiving blanket? If you don't want to go through all the trouble, then choose a swaddling blanket for that specific purpose.
Always keep a receiving blanket at hand. Put in your diaper bag 1 or 2 blankets to use when going out or visiting friends. You'll want to be prepared in case you want to have your baby warm, need a stroller cover, or want to change your baby's diaper while out and about.
What to do with old receiving blankets
Unfortunately, your children won't stay small forever, and as the baby grows and becomes a toddler, they won't need as many receiving blankets or none at all. So, what can you do with them then?
You can always donate used receiving blankets to Goodwill or thrift stores so parents that can't afford to get them at full price can acquire those and use them.
Animal shelters also benefit from donated receiving blankets to use as bedding or blankets for the animals.
However, if you want to keep them, or at least some of them, as a keepsake from when your children were little, you can always repurpose them into pillowcases, cushions, or stuffed toys. There are a lot of ideas of crafty and DIY things you can do to repurpose old receiving blankets in creative ways.
You can also make a large quilt stitching different receiving blankets and use it for a long time for your children or yourself.