There are many options out there when it comes to diapers. Many different brands available today come at different price points with different things or benefits to boast that are meant for babies at various stages of development. Hence, you have to figure out which diaper brands work best for your baby while considering these diapers' different options and benefits.
In this article, we will focus mainly on Pampers diapers. To be more exact, Pampers Swaddlers vs Cruisers. Baby's skin and diapers should be of utmost quality, so if you have chosen or are considering either Pampers Swaddlers or Pampers Cruisers for your baby, you need to know the difference, including the pros and cons of each.
This article will have you, and soon after that, your baby, covered.
Pampers Diapers
Disposable diapers were invented in the 1950s, and Pampers were the first disposable diaper manufacturer, setting their original price at six cents per diaper in 1964. They were an instant hit, and parents loved the ease with which they could change a baby's diaper, the difference the disposable yet soft material made on the baby's skin, and how well they handled and even prevented diaper rash. Other diaper brands emerged soon after, and prices and competition have grown immensely over the years.
A Variety of Diapers and Products
Diapers cost more these days than they did back in the 1960s, but there are so many options available to consumers now, and at different price points according to baby's needs and parent's budget.
Pampers saw the need for not only different types and stages of diapers, so they grew to accommodate, branching out into training pants, swim diapers, and wipes. They are one of the most popular and trusted brands of diapers for several reasons, not just because they have been around the longest.
The Pampers Promise
Pampers offers what they call a safety promise, delivered in four steps. These four steps are said to guarantee safety to every baby and give every parent who puts a Pampers diaper on a baby's skin peace of mind.
The steps are as follows:
Pampers only buys the safest raw materials for their diapers and are tested by the most aggressive U.K. and U.S. regulations available.
All materials in the diapers are tested multiple times.
The finished diaper is repeatedly tested before it is packaged.
They conduct rigorous production line inspections and quality checks with complete satisfaction surveys and studies by consumers and encourage parents to contact them with all feedback, good and bad.
This may seem like standard practice, but it is not. This commitment to quality and satisfaction and the safety of every baby diapered by them gives them a leading edge over some of their competitors.
Pampers Diaper Options
While we will be diving into the Pampers Swaddlers vs Cruisers comparison in more depth than in any other type of diaper the company offers, it is still wise to consider all of your options if you like and trust the brand.
Pampers offers many different sorts of diapers, including:
Pampers Swaddlers
Pampers Pure Protection
Pampers Cruisers
Pampers Cruisers 360 Fit
Pampers Baby Dry
Understanding what each sort of diaper offers will give you a better idea of what you might need for your baby. All parents want to give their little ones the best, especially when it comes to things like diapers, which little ones wear almost constantly for at least the first year of life.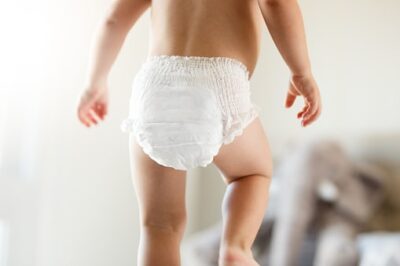 Pampers Swaddlers
Pampers Swaddlers are a premium line of diapers produced and sold to cater to babies of most sizes, right up to the point of potty training. Along with this feature, they also offer several other pros that satisfy parents.
Sizes Available
The term "swaddler" may confuse some parents and lead them to believe that these are only diapers for newborns or young infants. This is a misconception. Pampers Swaddlers come in sizes newborn through size 6. This means that your child can stay in their Pampers Swaddlers from birth, all the way up to the time they potty train, and then either move on to underpants or the Pampers training pants.
Dryness and Liner
Pampers Swaddlers has air channels that keeps moisture away from the baby's skin for up to 12 hours. Having a wet diaper on a baby's delicate skin risks the frequency of a diaper rash, which is uncomfortable and sometimes even painful. This baby diaper absorbs the wetness for up to twelve hours, so your child is at a lesser risk for a rash. Pampers liners called Absorb Away liners also lock away moisture so that even mobile babies can crawl around, roll around, and play, all while feeling dry even when their diaper is wet.
Wetness Indicator
The wetness indicator is something most parents have come to love and even rely on. Younger babies can sometimes be a bit smaller, and the way a diaper can tend to bunch up can lead a parent or caregiver to think that the baby is wet when the baby does not need a diaper change. Unnecessary diaper changes waste products and cost more money.
Active babies often look full even if they are not because their movement can shift the diaper and give the look of fullness when they are not soiled or wet. A wetness indicator is a line that runs from one end of the diaper, down the center vertically, to the other end of the diaper. When a baby goes potty in the diaper, the line changes color. All a parent or caregiver has to do is check that line to know whether or not the baby needs a change.
Unique to Pampers Swaddlers
Pampers Swaddlers does boast a few things that other diapers do not, even those of the same brand. When deciding Pampers Swaddlers vs Cruisers, or any other variety of Pampers diapers, these are often the selling points for Pampers Swaddlers.
Quilted Diaper
Pampers Swaddlers have quilted heart designs in their diapers, making the diapers soft for the baby's skin. They do not rub uncomfortably on the baby's legs, and they help keep the baby's skin dry. They are as close as you can get to a cloth diaper regarding gentleness on the delicate skin.
Both Pampers Swaddlers and cloth diapers have a quilted feeling. This is especially good for newborn babies, as they have especially sensitive skin. More mobile babies benefit from the quilted texture because the constant movement of an active baby means chafing, and skin irritation can occur more easily.
Umbilical Cord Notch
Newborn babies have an umbilical stump for the first few weeks after delivery. Other diapers do not accommodate for this dried-out stump that sticks out from what will be a cute little belly button. If a parent chooses to use a different diaper, they must either cover the stump with the front of the diaper or fold it over, which can compromise the diaper's absorbency.
Pampers Swaddlers have a notch cut out of the front specifically for the umbilical cord. This umbilical cord notch is available in sizes newborn through size 2. This means that your baby's umbilical stump will be free of irritation from a diaper until it can detach from the body by itself.
Difference between pampers swaddlers and baby dry
Another major player in the Pampers diaper line is the Baby Dry diaper line. While Pampers promises the same safety standards, some differences make parents choose a particular diaper for their little ones.
Liners
Pampers Baby Dry is another excellent option for infant diapers. While they also offer twelve hours of dry diapers, lessening the risk of diaper rash and skin irritation, they use a different method to achieve that twelve hours. While the Pampers Swaddlers use the Absorb Away liners, the Pampers Baby Dry diapers use three layers of a liner to absorb moisture.
Designs
Logically, it should not matter what a diaper looks like, so long as it does the job and keeps a baby from feeling soaked and irritated. Wet diapers are nothing to brag about, and a baby's comfort while wearing a diaper is important. However, the cuter a diaper is, the more likely a parent will purchase it.
Pampers Swaddlers come in gender-neutral, soft designs, while Baby Dry infant diapers come in cute Sesame Street designs. They also have a wetness indicator, and just like Swaddlers, they are hypoallergenic diapers that are also lightly scented and smell like baby powder.
All of this put together can make up for the fact that the Baby Dry line does not have the newborn notch for the umbilical cord that the Pampers Swaddlers have—for some parents, anyway.
Cost
Parents of new babies love to save money when they can. While Pampers is a well-known and premium diaper company, the Baby Dry line costs significantly less than Pampers Swaddlers do. This means that more parents can afford this line, putting it slightly over the edge for parents on a tight budget trying to decide between the Baby Dry line and Swaddlers.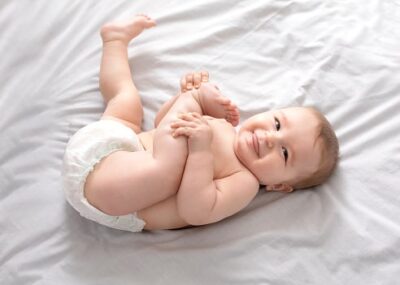 Pampers Cruisers
When deciding whether or not to switch to Pampers Cruisers from Pamper Swadllers when your child becomes one of those active babies that you can barely keep up with them, you will definitely need to do some research to identify and decide which diaper is best for your baby. To help you settle the Pampers Swaddlers vs Cruisers debate, these are the selling points for Pampers Cruisers.
Sizes Available
Pampers Cruisers cater to slightly bigger babies than Swaddlers. The Pampers Cruisers line starts at size 3 and goes to size 7, meaning that from crawling, or, well, cruising, until the point your child is potty trained, they can be in Pampers Cruisers.
Dryness and Liner
Designed with older babies in mind, these diapers offer leak guard protection and a liner that does not keep moisture on the skin of your baby. The unique Lock Away liner has air and wetness channels that keep your baby comfortable when on the move so that you can avoid diaper rash in those bigger diaper sizes, especially when frequently changing a diaper can be like wrestling a small alligator.
Unique to Pamper Cruisers
Pampers cruisers have baby's movement and baby's age in mind. They offer stretchy sides for a contoured fit and leak barrier leg cuffs so that you do not have any blowouts to worry about while your little one is on the move. This usually makes Pampers Cruisers good for crawlers, walkers, and toddlers. Once your little one starts potty training, you can either keep them in Pampers Cruisers or graduate them to Pampers Easy Ups, which fit more like regular underpants, to get the feel of pulling them up and down while still offering soft, stretchy sides and absorbency.
Difference between pampers swaddlers and cruisers
In the Pampers Swaddlers vs Cruisers decision, there is not really a clear-cut winner. It is really up to the personal preference of the parent. Pampers Swaddlers cater more towards newborns and small babies but come in larger sizes for more active and older infants and toddlers.
On the other hand, Pampers Cruisers are made with the older baby in mind and offer parents the leak guard that is needed at the age when little ones start to experience the joy and freedom of independent movement. If you are still on the fence on this difficult decision, consider the differences between the two lines of Pampers disposable diapers.
Wetness Indicator
Pampers Swaddlers come with a wetness indicator, which is extremely helpful in preventing things like rashes and irritation of delicate skin. On the other hand, Pampers Cruisers do not have a wetness indicator, making it a bit trickier to tell when your little one needs a diaper change.
The Price
Swaddlers are more expensive than Cruisers. Parents looking for a diaper size of three or larger who are on a budget may be better off choosing Cruisers due to the price point. Both diaper lines offer twelve hours of dryness.
The Verdict
When it comes to a newborn baby, you simply cannot beat Swaddlers. The notch for the umbilical, the indicator for wetness, and the ultra-soft material that feels like premium cotton makes Swaddlers perfect for very small babies. While more expensive, Swaddlers are the most common choice of hospitals. You cannot go wrong with Swaddlers.
However, the right diapers for the mobile baby may just be the Cruiser. They give the baby freedom to roam and move around without leaking, and they do not coat your baby with diaper gel when wet. Although they do not have the wet stripe that the Swaddlers have, the Cruisers are less expensive and more contoured to fit a moving baby, and the Pampers brand still promises quality and comfort.
When it comes to the right diaper for your baby, either is fine. The brand promises to make either diaper usable for babies over size 3. However, the Swaddlers are the perfect diaper for small babies, while even the Pampers website will tell you that you cannot beat the Cruisers when it comes to little ones on the move.